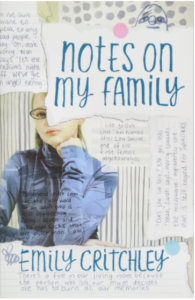 Everyone's family seems completely crazy at times. For 13-year-old Lou Coulson, it's all the time. Notes on My Family is her uniquely clever recounting of life with her dysfunctional siblings, newly separated parents, supernaturally inclined nan, and every other person that passes her observant eye.
From train timetables to German-philosophy-reading friends, Lou is interested in it all. She likes cheese and pickle sandwiches, imagines a life with her imaginary dog, Renzo, and often finds it hard to be around people. Her notes often ramble on these subjects, detail her latest adventures at the train station, or give updates as to the whereabouts of the family's escaped pet hamster, showing that in the life of a quiet observer, there is no such thing as a dull moment. We follow her watchful gaze as she navigates her parents' separation, living with her dramatic sister and brother, and the trials and tribulations of life as the class outcast.
London-based author Emily Critchley crafts a hilarious narrative centered around the strange family dynamic of the Coulson home. Lou's voice is the star of this novel, turning even the most mundane events interesting and absolutely hilarious:
"Would you like to explain, perhaps, what you mean, and how this…" He gestures towards Faith's piece of paper, "relates to your future career choice?"

"Sure," Faith says, slowly putting her piece of paper back down on the desk. "All of my potential and limitations as a human being are measured against my inevitable death. I will live my life in relation to death and my own finitude, as a being-towards-death."

Mr. Wexhall continues to stare at Faith like she is an alien from outer space…

"But," Mr. Wexhall says, looking totally confused, "how are you going to earn a living?"

"Oh that," Faith says, as if it's a stupid question. "I'm going to be a dentist. Good health starts in the mouth."
Underneath it all, this is still a quintessential coming-of-age story, as Lou deals with her first period, her first experience with drugs, and a new, dynamic friend. Novels about sexuality and puberty have been around since Judy Blume, but Notes on My Family takes a more modern tone, as Lou watches her brother (who is gay and doesn't know it) struggle with their father's antiquated ideas of gender roles. No one in this book exactly fits the role set down for them, and Critchley makes it clear to her audience that being different is absolutely okay.
Lou's story is resonant for anyone who's ever felt stuck on the sidelines, watching everyone else live out their personal dramas. It's a story for the quiet outsider, the kind of kid – or former kid – who'd rather spend recess reading than running. Lou gradually finds her place in her world, on her own terms, and in her own way.
Young fans of David Almond and Louise Rennison will undoubtedly love this thoughtful, witty take on growing up. Emily Critchley's Notes on My Family is perfect for any middle-school-age reader.