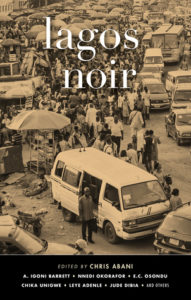 Ever since learning about the Noir series from Akashic Press, I've wanted to read one. Recently, I finally got a chance when I acquired a copy of Lagos Noir, featuring stories by Nnedi Okorafor, Chris Abani, A. Igoni Barrett, and several other talented writers.
I can't claim to be a particular fan of the noir genre; not that I dislike it, just that I tend to be drawn to books in other genres first. What drew me to Lagos Noir was not the promise of grisly murders or seedy underbellies but the idea of getting to know a city through a collection of stories about it. It's clear from the very first story, "What They Did That Night," by Jude Dibia, that this collection of authors are the perfect people to make the introduction.
I have never been to Lagos, Nigeria, but it didn't take long before I was immersed in the sounds and smells of the city. The stories in Lagos Noir might deal with the dark side of the city, but even stories about crooked cops or suspicious landlords can't disguise how enamored the writers are with the city – and it's likely that readers soon will be, too.
My favorite stories were Nnedi Okorafor's "Showlogo," in which a man of near-mythic standing finds an unusual way out of the city when he needs to hide from the police; "The Swimming Pool," by Sarah Ladipo Manyika, about tensions within a prominent local family; "Choir Boy," by 'Pemi Aguda, which tells the story and aftermath of a bus hijacking, and "Killer Ape," by Chris Abani, about… well, you know. But even though these stories stood out to me the most, I genuinely enjoyed all the contributions to the collection and relished the chance to visit Lagos so often by reading a story or two an evening across several days.
If you've ever lived in, loved, or wanted to visit a city, I can't recommend this series of books enough.
A copy of this book was provided by the publisher for review.