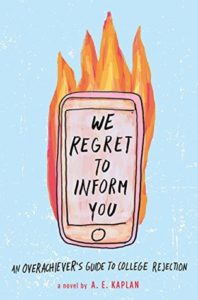 Mischa Abramavicius did everything she was supposed to in order to be accepted to the "right" colleges – which is why finding out she was rejected from every school she applied to is particularly devastating. Her mind won't rest until she knows if her rejections are because she did something wrong or because her applications were sabotaged. Whatever the reason, when faced with the prospect of not attending college – or at least not next year – Mischa has to re-evaluate who she wants to be if not the hyper-driven student who excels at school.
We Regret to Inform You by A.E. Kaplan is a quick, engaging read that I sped through in less than a day. Kaplan deftly evokes the tense final months of senior year at a competitive high school and fills it with characters you either perfectly love to love or perfectly love to hate. Mischa's best friend and crush, Nate, is definitely swoon-worthy, and hacker girl group the Ophelia Syndicate are so engaging that I kind of want to read a book about what happens to them after We Regret to Inform You is over. In turn, Meredith Dorsay, Mischa's academic rival, is perfectly loathsome – always a nice touch to get readers to care as much about what happens as the characters do. All in all, the book is a fun way to gear up for the end of the summer, and perhaps let off some steam for students who are just about to begin college applications or have recently gone through the process.
The one thing I would say – not as a detriment to the novel, but just as a clarification – is that We Regret to Inform You is not a totally realistic picture of the college application process. More than a contemporary YA story about a girl coping with what happens when the inscrutable admissions decisions of colleges and universities don't work out in her favor, the novel is more of a college admissions soap opera/thriller where there is, in fact, someone to blame besides Mischa (or fate) for her admissions results. While it could work as a kind of wish fulfillment for rejected students who desperately want such a reason for themselves, I worry that it also risks making students similar to Mischa – who had the "right" grades, recommendations, extracurriculars, and test scores – feel worse. Despite the way it's portrayed in the novel, a single grade rarely makes a big difference in an admission decision. Again, this is nothing against the book, which I really enjoyed, just a disclaimer since I could see this book appealing to teens who are currently going through a difficult rejection.
As a final note, I always feel compelled to point out that Ivy League schools, including Princeton and Harvard, to which Mischa applies, make need-blind admissions decisions, only give scholarships based on need (rather than merit), and are committed to meeting 100% of demonstrated financial need for accepted students. In We Regret to Inform You, Mischa states that attending either of these schools is contingent not only on getting in but also on receiving "big bucks" in financial aid in order to go. In truth, if students are able to get in – a process which is certainly biased towards wealthy, white students – universities like these can often offer better financial aid packages than lesser-known schools. If you are a low-income high school student interested in applying to places like the ones Mischa does in the novel, you may want to check out Questbridge for information on how to navigate the process.
Definitely pick up a copy of We Regret to Inform You if you're looking to close out the summer with a bit of intrigue, a bit of romance, and a lot of fun.
A copy of this book was provided by the publisher for review.