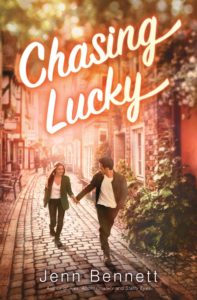 You know how sometimes everything in your life is going wrong, you're feeling glum, and the numbers just aren't adding up, but then the actual perfect book that speaks to exactly what you're going through arrives and turns your frown upside down? Yeah, Chasing Lucky was that book for me.
I'm currently writing this review on a sunny spring day smack in the middle of April, only a few weeks short of what should have been the May release of Jenn Bennett's latest YA rom-com, Chasing Lucky. Unfortunately, our world has tumbled into a bit of a spiral with the outbreak of COVID-19, and alas, we've just learned that, like so many other spring titles this year, Chasing Lucky won't be released until the fall.
Honestly, this feels like a tragedy to me, in the bookish sense, of course. Jenn Bennett is a master at YA contemporary romance, and after finishing her latest, I can't tell you how robbed the YA book community is now, having to wait even longer for this book. During a time when so much seems uncertain in the world, I'd been feeling what I imagine a lot of us have felt this year: anxiety, panic, skepticism…Chasing Lucky sort of just blew all those emotions to pieces and reminded me how glorious a young summer romance feels.
Enter the feels and swoons.
The story centers on Josie Saint-Martin, a budding photographer who just wants to survive the move back to her childhood hometown with her single mom in tow before running away to the West Coast to join her famous (and absentee) father. Sounds simple enough until former BFF Lucky Karras re-enters her life, bringing with him a brooding attitude from their previous fallout, a snarky tongue, and glorious, wonderful biceps. Oh-oh-oh, the biceps! Bless you, JennBenn. Bless you.
Ahem, anyway.
Immediately upon diving in, I was hooked. The first thing you need to know about me as a reader is that I'm a full-on trope girl. Give me ALL. THE. TROPES. This book is full of them – a treasure trove to behold for the romance reader! We're talking second-chance, friends-to-lovers, mystery-bad-boy-with-the-good-girl-next-door, stranded-on-an-island, cuddling-for-warmth (among other things, things maybe being of the kissing variety) kind of treasure trove of tropes. A treasure trope? Whatever you want to call it, I'm trying to say that this book has all the good stuff. And I soaked every single word of it up. By the end, my tummy was full of butterflies carrying all the good, sweet feelings only a story like this can give ya.
I guess there's just something so comforting about these types of books to me, especially during a time of hardship. Josie and Lucky felt familiar to me in many ways as I read about their summer coming back together in cozy bookshop corners and rickety boatyard workshops inhabited by friendly family cats. I knew them, and while surrounded by the storms of the world dealing with a pandemic, knowing these characters was a life raft to hold on to.
But even more than Josie and Lucky's surface-level banter and tension, I discovered a lot of immediate depth to their relationship. They have history. They have shared intimacy. And even though you're not clued in right away on what precisely all of the backstory is, you can almost feel it jumping off the page from the moment they interact. Their chemistry is incredible, more than witty catchphrases swapped back and forth or flustered looks across a room. It's the deep, deep loyalty that comes with a lifetime of friendship, the kind you crave years later into adulthood.
It's also spectacularly fun to watch unfold. These two clowns like to push and pull at each other in ways that shape them into better people, all while having the best of times. And that's what makes them so entertaining to watch as a couple. I love seeing two people understand how to strip the other person down to their core and embrace what they find, sharing life and laughter together as they go about their time together.
Additionally, I can't end this without mentioning that the supporting cast of characters and their many subplots were equally spectacular as an accompaniment to the romance. There's plenty of family drama between a whole line of mothers and daughters, town gossip to drive you batty for days, and even a family curse – *gasp!* Complicated parent-child relationships, like the type that exists between Josie and her family, are basically my bread and butter in reading, in that I'll always come back for more of it. Josie comes from a family of exceptionally dynamic women that I'd be more than willing to read about in sequels or adult companion novels down the road. (I've got ideas, Jenn. Let's talk.)
So, not knowing whether this review will be published when we're all still stuck in quarantine hell or back into the wilds of the world living freely, I insist you take a chance on Chasing Lucky. Reading was at an all-time low when I first picked it up, but Jenn Bennett was quick to remind me that love still beats strong, that family still holds tight, and that yes, magic can always be found in these very dark times. As far as YA contemporary romances go, this one really can't be beat.
A copy of this book was provided by the publisher, Simon & Schuster, for review.