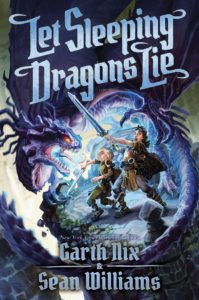 The wait is over for the sequel to Garth Nix and Sean Williams' Have Sword, Will Travel! The second installment of this middle-grade Nordic saga picks up right where the first book left off, with Odo and Eleanor rushing toward the village green to save their neighbors from an unexpected Bilewolf attack. But Bilewolves aren't the only thing the friends discover when they burst onto the scene: They also run into the former King of Tofte, Egda, along with his guard captain, Hundred.
Egda abdicated the throne upon going blind ten years ago but is making his way back from self-imposed exile after hearing rumors that the country is being mismanaged. Word has it that Egda's sister, the Regent Odelyn, has been corrupted by power, planning to steal the throne from her nephew Kendryk. And, unfortunately, Odelyn's ill-dealings are more than just rumors: Her schemes result in new taxes on Tofte's citizens, violated treaties with magical peoples, and the replacement of Knights with a system of corrupt Instruments and Adjustors. Odo and Eleanor know their rightful place is beside their king – but can the group make it to the capital before Odelyn is crowned King?
I really enjoyed this sequel, which tones down the silliness just a tad from the first books. Or – quite possibly – the strangeness of having two talking swords as main characters has just worn off a bit! That's not to say that Odo's and Eleanor's swords, Runnel and Biter, don't feature prominently in Let Sleeping Dragons Lie; we do get more information on their origins and mythology, as well as some heavy suggestion that the third book in the series will make the mystery of the swords a central concern.
I also really liked the way that Nix and Williams adapted some of the common tropes of epic fantasy for older readers to the middle-grade genre, which they manage to do without making the book feel clunky or too predictable. For whatever reason, I was particularly delighted about the detail of Odo and Eleanor's party needing ten horses to travel quickly, so they can rest their mounts and keep traveling at the same time. But my favorite part of this series is the way it plays with gender; Eleanor is "Sir Eleanor," Odelyn wants to become King, and Hundred, also a knight, is a better fighter than… anyone. I always love it when books for children subtly (or, to be honest, explicitly!) question societal norms that are often taken for granted.
But above all else, this is just a great fantasy adventure story. I definitely recommend giving this series a try.
A copy of this book was provided by the publisher, Scholastic, for review.