Joining us for our first Author Takeover of 2019 is magical middle-grade author Michelle Harrison. Her brand-new story, A Pinch of Magic, is an enchanting read full of mysterious objects of power. Potterheads know the impact of a magical object or three (or seven) on the outcome of a quest, so what better topic to see us into February.
Three sisters trapped by an ancient curse. Three magical objects with the power to change their fate. Will they be enough to break the curse? Or will they lead the sisters even deeper into danger? 
Buy A Pinch of Magic
Michelle discusses her very own magical items with MuggleNet!
Curses and Magical Objects
A finger pricked on a spindle . . .
A poisoned apple . . .
A selfish prince forced to live as a fearsome beast . . .
The curse, and the means to break it, is threaded into our consciousness from an early age. It's one of the oldest storytelling tropes we have – and yet readers (and writers) still can't get enough. Perhaps that's because in real life there is much talk of luck, of fate, and the feeling that unseen forces could be working against us when things don't go our way.
Even the most practically minded Muggles will admit to having their own little rituals to ward off bad luck, whether it's saluting a lone magpie or remembering not to put new shoes on the table. We speak of "the hand we're dealt," and "things happening in threes," and we all seem to know that one person for whom things fall into place, as if by magic. Yes, Muggles are a superstitious lot. The fear of misfortune and, naturally, our own mortality is never too far from our thoughts, which is perhaps why we crave stories in which the dragon is slain, the curse undone, and the evil wizard vanquished. And what better to help us overcome adversity than a little magic?
My seventh children's novel, A Pinch of Magic, is the tale of the Widdershins sisters: Betty, Fliss, and Charlie, who set out to break a family curse. From the start, the seeds are sown to signal that this is an unlucky family. The word "widdershins" is associated with witches and bad luck, and their story begins on Betty's 13th birthday (also Halloween). Before the night's out, the sisters learn that they are trapped on the island of Crowstone, where they live. If they leave, they'll die before sunset. But it's not all doom and gloom, for the sisters are each given a magical object: a set of wooden nesting dolls, a mirror, and a scruffy carpet bag. Can they use their magic to break the deadly curse?
Enchanted objects in stories have always fascinated me. What reader doesn't dream of opening a wardrobe and discovering Narnia, or wonder which wand they'd be paired with at Ollivanders? For me, a huge part of the appeal is when an object that's seemingly ordinary turns out to be something of great power; it reminds us to seek magic in places we don't expect it and not to overlook the mundane. Often, these objects (like curses) are passed down through families; as with the Widdershinses' three items, and indeed Harry Potter's Invisibility Cloak and the other Deathly Hallows, we learn that these pieces of magic have been inherited over generations.
We could view these plot devices as pure escapism, but scratch a little deeper and we might just find something of ourselves. Just as our characters inherit curses and magical objects to counter them, we too come with inherent traits and are born into social circumstances beyond our control that can seem destined to make or break us. At times, we are all capable of being our own worst enemies and bringing misfortune to ourselves through our deeds. As Betty uncomfortably wonders, what if the Widdershinses' magical objects are, in fact, part of the very curse they're trying to destroy? Similarly, Voldemort's superstitions and fear of his own defeat are the cause of his cursing Harry, and thus creating his own nemesis. In other words, we often reap what we sow and we must use our gifts – magical or not! – to deal with what life throws at us. Because one thing stories teach us, is that we can.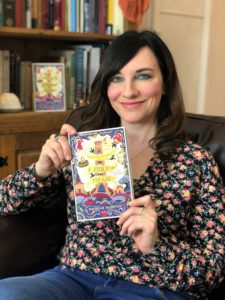 Michelle Harrison was born in 1979 and lives in Essex with her son, Jack, and two cats, Pepper and Marmite. Before she was published, she had various jobs including working in a bar, a bakery, and an art gallery, later becoming a children's bookseller at Waterstones. Prior to being a full-time writer, she worked in children's fiction at Oxford University Press. Michelle is the author of seven novels for children and young adults. Her first, The Thirteen Treasures, won the Waterstones Children's Book Prize. The Other Alice won the Calderdale Book of the Year Award. Her seventh novel, A Pinch of Magic, is being published in February 2019 and is Waterstones' Children's Book of the Month.
Website: www.michelleharrisonbooks.com
Twitter: @MHarrison13
Instagram: @elvesden