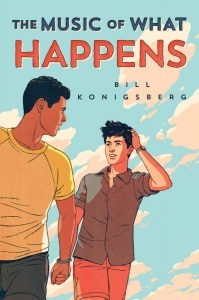 Since Max and Jordan travel in completely separate circles at school, the last thing they expect to do is to spend the summer working together in Jordan's family food truck, Coq Au Vinny. Jordan's father ran the food truck before he died four years ago – but with bills piling up and threatening to put Jordan and his mother out of a home, they have no choice but to put Coq Au Vinny back in action. Max's involvement starts as atonement for breaking curfew, but both boys soon discover that what they most need might be where they least expect it.
The food truck setting of The Music of What Happens is a lot of fun, but what really brings this book to life are the interpersonal relationships between the characters, which are drawn with such tenderness and nuance that they will seep off of the page and into your heart. This includes not just the relationship between Max and Jordan – which is, of course, filled with as much laughter, awkwardness, and "awww" moments as you could want from a YA romance – but also the relationship between both boys and their mothers and between them and their friend groups (Max with two straight boys from his baseball team, and Jordan with two straight girls from drama club).
Author Bill Konigsberg, who always writes reliably good reads, has a knack for getting at his characters' feelings in both big and small moments – Max's friends' unwavering acceptance of his sexuality, never in question through scenes of playing video games or lazy summer afternoons, feels as big and beautiful as Max and Jordan's blossoming romance.
At the same time, The Music of What Happens deals with some tough issues, including the mental health of Jordan's mother and sexual assault. Konigsberg keeps it carefully balanced throughout so that the trauma of these experiences is always tempered with the love and support of those closest to the characters affected, reminding us that being damaged doesn't keep us from loving or being loved. This may not be a novel that resolves easily, but it does end with hope.
A copy of this book was provided by the publisher, Scholastic, for review.