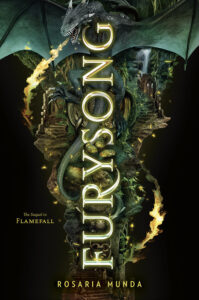 It's finally here – the third and final book in Rosaria Munda's The Aurelian Cycle trilogy, Furysong. And it's just as heart-poundingly intense as anyone who has read the first two might expect.
When we left off at the end of Flamefall, Annie was preparing to help Griff and the rest of the humble riders stage a coup in New Pythos. Lee, meanwhile, had just arrived back in Callipolis when Ixion showed up with the remaining exiled dragonborn to retake their homeland – with the help of an invading princess and her massive dragon, of course.
Just like Fireborne and Flamefall before it, Furysong was impossible to put down, and I read it in a couple of days. I am such a huge fan of Munda's writing – she manages to take a very complicated political plot with multiple coups and counter-coups and makes it easy to follow. At the same time, her command and intimate understanding of texts like The Iliad and The Aeneid and their influence on the society in The Aurelian Cycle come through with a poetic lilt that infuses even the non-poetry lines. The world Munda has built here feels so real it could have once actually existed in our own history books.
Furysong presents a series of increasingly difficult decisions for Annie and Lee, as well as for the other characters whose perspectives we get a glimpse of – Griff and Delo. One that resonated most strongly with me was one Annie is faced with in the latter half of the novel. She has completed what she feels is her final duty. Now she's faced with the decision of picking up the difficult mantle of being the Firstrider, whatever that entails now that there is a change in regime, or choosing to go in a different direction entirely. I absolutely adored how Munda addressed this decision. Traditionally feminine roles are often looked down upon in fantasy – the "peasant woman" chained to a life of babies and cooking. For a lot of people, that was a role they had no choice but to take. But there is an unsung beauty in choosing a quiet life:
"Then I'm just one more stupid peasant woman-"

[…] Not the sort of girl who rides dragons or defends the Revolution or deserves any better titles than the ones they've given her. […] and yet here I am standing trial before my country as commander of the aerial fleet but dreaming about a kitchen.

Power's voice rises. "Like your mum? Like mine? I'd rather be like them than that excuse for a human being who was my father." (Munda 416)
As it's the final book in a tumultuous trilogy packed with action, it's hard to talk about the ending without introducing spoilers. It's been a little while since I've been able to read YA because another series absolutely ruined me with a bittersweet ending. Furysong, while also a certain kind of bittersweet, was an incredibly satisfying end to a beautiful, intense, thoughtful series that I will be returning to again and again.
I would highly recommend picking up a copy of Fireborne, if you have yet to dip into Munda's incredible world of dragonriding and politics. If you've read the first two, then I know you'll be as blown away by Furysong as I was.
But sing me first her vengeance and her reckoning
Sing me now your fury-song
(Munda 303)
A copy of this book was provided by the publisher, G. P. Putnam's Sons, for review.