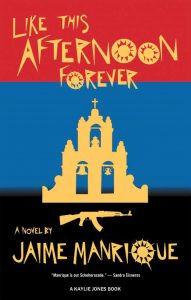 Lucas and Ignacio are both young seminary students when they fall in love – a love taboo in the Colombia of the 1990s, and especially so for young men expected to enter the Catholic priesthood. Like This Afternoon Forever traces the fraught course of their lives as the pair grapple with their faith, the realities of poverty and insurgent violence, and what it means to love against a backdrop of hardship and war.
It has taken me a long time after I finished reading this novel to figure out what I want to say about it. I found it powerful but strange, not at all what I expected when I picked it up for review.
To begin with, its structure is a little odd; the novel opens when Lucas is a small child and concludes when he and Ignacio are adults, an impressive span of life to cover for a book just over 200 pages. We begin with Lucas as our POV character before switching to Ignacio and then back again, an alternation that leaves large swaths of each character's life a mystery to the reader. Manrique tells their story largely as a constellation of moments, years passing between chapters only to pause on a significant walk through the woods.
Despite there being moments when I wished I had a little more information about Lucas's or Ignacio's motivations, this unusual structure was almost hypnotizing, urging me forward through the story. It's almost as if Manrique didn't really want to let us inside of Lucas and Ignacio's love – only let us know that it was there, a powerful force influencing their lives and actions. If I had heard someone else describe a book that way, I wouldn't be sure that it could be effective. Yet somehow, it works in Like This Afternoon Forever.
Some readers might also be interested in the novel's philosophizing about the power and nature of the Catholic church, focusing not just on the church's attitude toward same-sex relationships but also on its appropriate role in a country with so much poverty and violence. I do want to warn those who may be sensitive to violence or depictions of self-harm that this novel is very bleak. In promotional materials for the book, Manrique admits that the inspiration for writing Like This Afternoon Forever came to him soon after his lover of many decades passed away. I would say that the grief that accompanies such an event is the mood that permeates this novel. It's beautiful but deeply sad, and it leaves you not quite knowing where to turn.
A copy of this book was provided by the publisher, Akashic, for review.