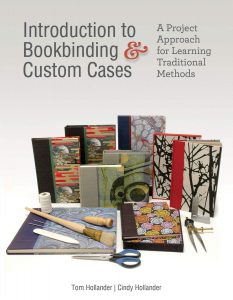 In my experience, there comes a time in every book lover's life when they become curious about the art of homemade books and bookbinding. When that time comes, there are few better resources to turn to than Introduction to Bookbinding & Custom Cases: A Project Approach for Learning Traditional Methods, by Tom Hollander and Cindy Hollander.
Based out of their storefront in Ann Arbor, Michigan, the Hollanders have been crafting custom book bindings and cases for over 30 years. Introduction to Bookbinding & Custom Cases is their second publication – following 2009's Constructing and Covering Boxes: A Beginner's Guide – in which they share their expertise with aspiring bookbinders.
What makes this book such a great resource is the practical approach it takes to teaching bookbinding skills. The book contains meticulous instructions for five projects (three different book bindings and two different cases) of increasing difficulty. This allows it to cater to the needs of both beginning and intermediate students; as an added bonus, the final chapter of the book is a gallery of some of Tom and Cindy's most impressive works, providing inspiration for students who are ready to tackle their own projects beyond the book's guidance.
As someone with no bookbinding experience, I appreciated that the first two chapters are devoted to acquainting readers with basic supplies and fundamental methods – though some of the tools are so specific that I also would have appreciated tips on where to acquire them (as it turns out, the Hollanders' own store sells many of them). I will also warn that while Tom and Cindy's instructions are detailed – every step of every project is illustrated by at least one photograph – it will still be intimidating to dive into bookbinding projects. While you theoretically could learn to bind from this book alone, it would probably be most helpful as an auxiliary resource to a class about homemade books and cases.
I think this book would be especially useful as a classroom resource or as a gift for the artist searching for a new medium for their work. (Okay, besotted bibliophiles who just want to know more about the theory of bookbinding will also get a kick out of it.) Homemade binding requires a lot of space, supplies, and patience; once you've acquired those three things, Introduction to Bookbinding & Custom Cases is all you need.
A copy of this book was provided by the publisher, Schiffer Publishing, for review.