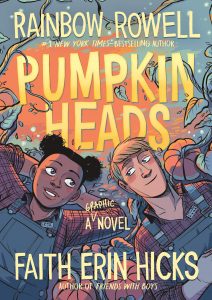 It's Halloween, which means that it is Deja and Josiah's last ever night as pumpkin patch employees. Next fall they'll be at college, missing out not just on pumpkins but on cider, kettle corn, Freeto pie, fudge… and each other, though they haven't really talked about that last part yet.
Deja is determined to force Josiah ("Josie," for short) to talk to his long-time crush at the patch, Marcy, insisting that he can't leave forever without at least asking her on a date. He reluctantly agrees to her plan, only to get foiled at every attempt he makes to find Marcy on the patch's busiest night of the year. Not one to give up easily, Deja encourages Josie not to persevere, leading the pair on a wild chase around the best pumpkin patch in the world.
This book may be coming out in August, but trust me – you'll be dying to swap your swimsuit and shorts for a cozy sweater and apple cider donut after reading Pumpkinheads. If I'm being honest, it doesn't even take that long; I was already imagining the smell of crisp fall air by about the second page. Since I live in California, where there is no fall, I felt this was a particularly cruel thing for Rowell and Hicks to do. But Pumpkinheads is such a fun read that I couldn't hold it against them for long.
As ever, Rowell delivers heartfelt romance, evoking deep feelings with a few masterful strokes. Although the story is ostensibly a simple one, with no major evil to be vanquished or villains to overcome, she manages to create an almost unbearable amount of anticipation as Marcy fails to appear time after time. (I was also really anxious about Deja and Josie neglecting their patch duties… but I think that's more of a personal hangup than an intended effect of the story.)
Her partner in creating Pumpkinheads magic is Faith Erin Hicks, whose renderings of Deja and Josie's adventures almost made me forget that I was in California and that it was currently about 95 degrees. And don't even get me started on her depictions of the patch's various fall-themed snacks, which nearly had me drooling on my copy of the book (plus, keep an eye out for a Harry Potter nod in one of the panels!).
Unless you happen to be some kind of Halloween Scrooge (in which case I may know a guy who will soon be paying you a visit), you can't go wrong with Pumpkinheads. Bring on fall!
A copy of this book was provided by the publisher, First Second, for review.