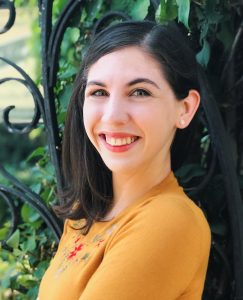 Today we're hosting an Author Takeover from Emma Steinkellner, creator of the graphic novel The Okay Witch (read our review here). The Okay Witch is Emma's graphic novel debut, in which 13-year-old Moth discovers she can do magic… and then discovers it runs in her family and is deeply connected to her town's history. We're big fans of The Okay Witch, and we know you will be, too!
Sabrina the Teenage Witch meets Roller Girl in this hilarious, one-of-a-kind graphic novel about a half-witch who has just discovered the truth about herself, her family, and her town and is doing her best to survive middle school now that she knows everything!
The Best Black Cats in Fiction (In No Particular Order)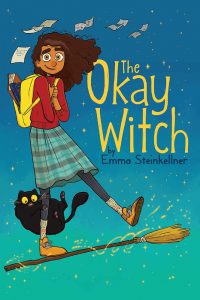 Let's get all the superstitions out of the way. Black cats aren't bad luck, they won't bring misfortune your way, and they're not evil. Don't be mean to them. BUT, black cats and kittens have notably always been linked to magic and mystery. In my graphic novel The Okay Witch, you'll meet Mr. Laszlo, the ghost of a family friend who comes back to teen witch Moth Hush as her familiar in the form of a black cat. That's not an accident. He's joining a legacy, a history, a veritable phalanx of interesting, four-legged friends.
Salem, Sabrina the Teenage Witch
A warlock found guilty and sentenced to hundreds of years of being a cat. A yawning, acerbic king. Salem always has some quip to dish to the Spellman ladies, and I adore him. Mostly in the '90s Melissa Joan Hart Sabrina, where he's a cat puppet but sometimes they'll cut to a clip of a real black cat walking around.
Luna, Sailor Moon
Sleek and self-assured but always more than a little worried about her girl Usagi, Luna is a wonderful cat-slash-mom-slash-school marm. And the little crescent moon on her forehead gives me serious classical-paintings-of-Diana vibes.
Thackery Binx, Hocus Pocus
Another guy cursed to be a cat, but Binx makes it work. Quick-thinking and bright. Maybe a little impatient with the bumbling human-bodied teens as he tries to help them overthrow the hilarious and genuinely scary Sanderson Sisters.
Cosmic Creepers, Bedknobs and Broomsticks
If I were a cat, my main priority would probably be finding out how to be Angela Lansbury's cat. Cosmic Creepers has done an A+ job at this task, as he belongs to Angela Lansbury's character, Miss Englantine Price. A not-particularly-verbal cat, Cosmic Creepers is more given to hissing than talking to express his sass, but it is received just the same.
Jiji, Kiki's Delivery Service
Three cheers for Jiji! Kiki needs a good companion when she goes off for her year of witchy independence, and lucky for her, she's got Jiji. I'm always particularly entertained by the use of scale in this movie vis-á-vis cats. You really get a true sense of Jiji's size and weight on the broom. I appreciate that.
Gink, Dorrie the Little Witch
Dorrie and Gink are a very sweet witch-and-cat pair from Patricia Coombs's cute-as-can-be children's book series that ran from the 1960s to the 1990s. They just are the quintessence of witchy cuteness – that's all I have to say.
The Jellicles Bustopher Jones and Mistoffelees, Old Possum's Book of Practical Cats/the musical CATS
Listen, I'll be seeing the CATS movie on Christmas. I'll likely see it a second time. I don't know what the quality will be, but I know it will be the most important movie in any of our lifetimes. Don't overthink it. The Jellicle Cats don't want you to. The two canonically black cats in CATS are Bustopher Jones (with a "coat of fastidious black"), the St. James Street cat who is fed by all whom he passes by on the street, and the Magical Mister Mistoffelees (a tuxedo cat), who can move all the items you need in your house, as if by magic. These are my boys, and I support them.
Church, Pet Sematary
"Don't resurrect your pets, folks"—what Bob Barker should have said at the end of every episode of The Price Is Right.
Thanks to Emma for stopping by the blog! The Okay Witch is available now.