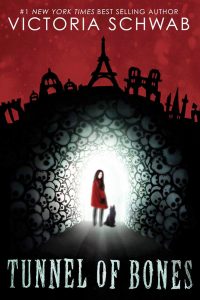 In this sequel to last year's City of Ghosts, Cassidy Blake is off to Paris, where her parents are set to film another episode of their paranormal documentary show. Tasked by Lara with using her ability to travel into the Veil and send ghosts on, Cassidy has been testing out her new abilities – all while secretly fearful that she'll one day have to use them to send her best friend, Jacob, "on."
But that worry will have to wait after Cassidy accidentally attracts the attention of a poltergeist while exploring the city's famous catacombs. Schwab's fun references to Harry Potter continue in this book, but Cassidy's poltergeist is certainly no Peeves. This young poltergeist has forgotten who he is, and Cassidy can't send him on until he remembers – meaning that she and Jacob have some sleuthing to do. In the meantime, the poltergeist's antics are getting more and more dangerous.
I don't think Schwab's intention in writing this series is to make me, an adult woman, jealous of a fictional child, but I always find that part and parcel of reading these spooky middle-grade books. Aside from these books being really great (and gentle) horror-mystery stories for young readers, I really love all of the vicarious world traveling I can do while reading these books. (My heart even breaks a little every time Cassidy skips visiting a historic site to deal with ghost business.)
My own green-eyed monster aside, Tunnel of Bones deepens the mythology and worldbuilding Schwab began in City of Ghosts. We learn more about both Cassidy's powers and Jacob's past, and I was impressed with how Schwab was able to keep the mentor/friend Cassidy met in City of Ghosts, Lara, connected to the action even while absent. Cassidy also makes one or two intriguing Parisian friends, and honestly, I'm hoping for some dream-team action involving all of Cassidy's allies sometime soon down the line.
If you enjoyed the first book, you should definitely stick with the series and read Tunnel of Bones.
A copy of this book was provided by the publisher, Scholastic, for review.