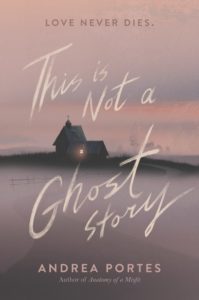 Daffodil Franklin has big plans to attend the college of her dreams – but first, she has to make it through the summer. Luckily, she's found a summer job that offers idyllic scenery and a nice paycheck: housesitting a mansion for a wealthy professor and his wife. But as the summer goes on, Daffodil comes to realize the house is more than it appears, and something sinister is watching her. We follow Daffodil's journey in This Is Not a Ghost Story, by Andrea Portes.
Ghost stories are a tricky one to get right. Authors can't use jump-scares or suspenseful music to create a sense of foreboding: they must rely on their writing. So it's even more chilling when you can get goosebumps from just reading words on a page!
Daffodil's inner monologue runs the span of most of the book, and her inner narration is how the story is told. I enjoyed reading the snarky comments of a 17-year-old, and I liked how she was sure there was a logical explanation for everything that was going on in the house. That's something I relate to. Daffodil's relatability is what makes this book so fun to read. A lot of times in horror or supernatural films, we watch the protagonist make terrible choices that end up being to their detriment, but not Daffodil. She uses logic and reasoning – how refreshing!
This story really gave me The Haunting of Hill House vibes (the book, not the TV show). There were so many similarities that I can't help but wonder if Portes took some inspiration from it. And just like Hill House, this story was predictable. The story was more creepy than scary, and because we have seen the same elements used time and again, it was just sort of boring. Every horror or supernatural book I have read has the same type of ending, and the same type of "big twist." It's not really that much of a twist if you can see it coming.
I understand that when writing horror and supernatural stories, there tends to be a bit more exposition in order to set up the story. Events need to happen gradually in order to establish that something is wrong. That makes writing this genre tricky because it can get slow very early on. This Is Not a Ghost Story fell victim to this folly. As someone who detests horror movies, I felt this book was definitely creepy, but the overused tropes took away a lot of the horror factor.
Overall, this was a cute book. The ending wrapped things up nicely, which was my favorite part of the story. I guess it really wasn't a ghost story after all. If you like lighthearted horror and the supernatural genre, give This Is Not a Ghost Story a try.
A copy of this book was provided by HarperCollins Publishers in exchange for an honest review.