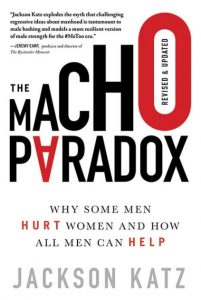 The Macho Paradox: Why Some Men Hurt Women and How All Men Can Help, by Dr. Jackson Katz, addresses the important issue of gender violence and its prevalence in American culture and society. Katz's book was first published in 2006, and the revised and updated edition was published this year.
I didn't read the first edition of this book, but I thought this updated version was excellent. While I don't know exactly what changes were made, it's obvious Katz has taken recent events heavily into account while rewriting the book; obviously, a lot has changed in 13 years, so I'd be surprised if a good chunk of this edition weren't rewritten. In fact, the first version's paperback edition is only 304 pages, while the new hardcover edition is a hefty 448 pages.
The thesis of Katz's book is that violence against women (sexual, domestic, etc.) is a men's issue. By placing the impetus on women, our society is neglecting the real reason why gender violence occurs. Katz argues that until men step up and really commit to stopping violence against women, men in our society will continue to inflict harm on women.
Obviously, the book is written from a man's perspective, and I loved what Katz chose to share in terms of his own personal journey. In particular, he recounts a comment he made to his then-girlfriend about protecting her from men who were former abusers at an event celebrating the men's progress. His girlfriend called him out on his troubling statement and Katz reflected on where it came from.
As a woman, the issue of violence against women is extremely important to me. Reading this book was incredibly moving, and I hope men are able to really reflect on violence against women and what they can do to help. I'll definitely be sharing this book with the men and women in my life. While some of it was very difficult to read, Katz includes excellent ideas for how we can change our language and our actions to create a more egalitarian and healthy society.
If you've been concerned so far about the binary of both the title and this review, don't fear. Katz does take time to mention dynamics between trans people and homosexual couples, though since the focus of the book is really on men's violence against women, these dynamics aren't mentioned too often.
Overall, Katz has written a powerful book that not only describes the history of gender violence in America but also provides the reader with concrete details about how to make changes in daily language and attitudes. Until all people decide to change the way we view men and women, violence in America will continue. I'd like to live in the world Katz is trying to create.
If you're concerned about the topics that are addressed in this book (CW: rape, domestic violence, physical violence), take a look at the table of contents and decide which chapters may or may not be triggering for you:
Violence Against Women Is a Men's Issue
Facing Facts
Taking It Personally
Listening to Women
Language Matters
Bystanders
Race and Culture
It Takes a Village to Rape a Woman
Guilty Pleasures: Pornography, Prostitution, and Stripping
MVP: The Mentors in Violence Prevention Model
Teach Our Children Well
More Than a Few Good Men
A copy of this book was provided by the publisher, Sourcebooks, for review.