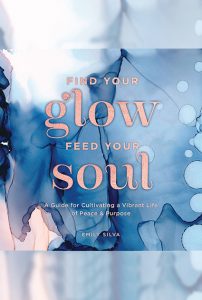 The last two years of my life have been, for lack of a better word, tough. It started with an emotional trauma, which triggered heightened anxiety, which turned into physical symptoms and struggles. To say I have had my fair share of rough times is an understatement. If I also say that I have been on the path to recovery, by any means necessary, the sentiment would remain the same.
When the opportunity to review Find Your Glow, Feed Your Soul landed in my lap, I was excited for the chance to indulge myself a bit. On the road of healing, I had tried to read many motivational books preaching guidance or self-love/help/care tactics. Each one felt the same, and ultimately, I didn't get much from them. This book does have that same feel, but in my opinion, the method of delivery is much more effective.
Set up and organized as a true A–Z self-care guide, Find Your Glow, Feed Your Soul is much less a book and much more an encyclopedia. I found myself returning to certain sections, for instance, "Journaling" or "Meditation," when I needed inspiration or guidance on a particular struggle or practice. Each section starts with a beautiful graphic and relevant quote, each definitely setting off the pages after.
If I had a hard copy of the book, I could see this becoming a journal in and of itself, where would I write entries and notes in the margins as reminders to myself over the years. Ultimately, even if I only ever return to a few chapters, I would find this a worthy purchase for anyone on their own journey.
A copy of the book was provided by the publisher, Rock Point, for review.