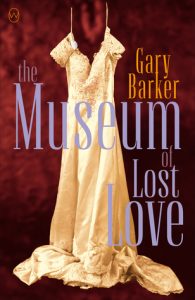 Inspired by the real Museum of Broken Relationships, The Museum of Lost Love is a novel about, well, love lost. Author Gary Barker interweaves the stories of three characters: Tyler, an Afghanistan War veteran in therapy after getting custody of a young son he didn't know he had; Katia, his therapist, who was adopted and has never met her biological family; and Goran, Katia's boyfriend, still haunted by his experiences as a teenager in the Yugoslav Wars.
When Goran brings Katia on a summer visit to his hometown of Zagreb, Croatia, they stumble upon a museum that exhibits the artifacts of the broken-hearted. Hanging on the walls and enshrined in display cases are the relics of lost love – ticket stubs from a first date, a sweater shared on a cold evening, or a love letter whose words no longer ring true may all be found among the museum's collections. While romantic love features prominently, other types of heartbreak are also welcomed into the Museum of Lost Love. While browsing the museum, Goran is astonished to discover an artifact from his own past. The reverberations from this discovery threaten Goran and Katia's relationship and force them both to reconsider their lives' loves, past and present.
I mostly enjoyed this slim volume, which features an array of "exhibits" from the Museum of Lost Love as interstitials between the chapters focusing on the novel's main narrative. It satisfies a desire similar to that served by the popular website Postsecret – the chance to exercise our innate curiosity about others' personal lives – while simultaneously realizes that our secrets, and our heartbreaks, are shared ones. I cared about the characters and was interested in what happened to them, and I found the book overall to be an easy and compelling read.
My one complaint is not an insignificant one, and it may be a dealbreaker for some readers. Though the overall tone of this novel is sweet, I want to make readers aware that The Museum of Lost Love does deal with some heavy themes, including domestic violence. There are no graphic scenes, but they still could be triggering for some readers.
Beyond this, I also have to question whether or not this violence was warranted by the text; it almost seems as if it was included just to keep the novel from being too happy. Wanting your book to strike a bittersweet note rather than a saccharine one is fine – but violence against women is too often included in media to "further the plot" in this way. Resorting to this technique is irresponsible and sustains a culture which devalues the lives and safety of women. This trope appears in a relatively mild way in The Museum of Lost Love, and I could see a reading of this book where its presence in this text is intended to register the troubling frequency of domestic violence rather than contribute to it – but it was enough to unsettle me as I finished what was otherwise a fine read.
A copy of this book was provided by the publisher, World Editions, for review.