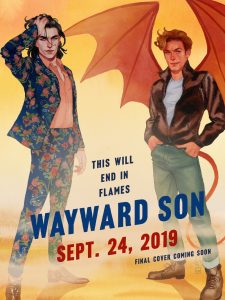 Wayward Son – the sequel so good, we had to review it twice. Of course, this likely comes as no surprise to MuggleNet fans, considering how much we love the first Simon Snow book, Carry On, or how much the series resonates with readers who grew up loving Harry Potter.
If Carry On was Rainbow Rowell's un–Chosen One narrative, one that also tackles the tendency of these narratives to be overwhelmingly white and straight (and simultaneously takes the mutual obsession of boarding school enemies à la Harry and Draco to its only logical conclusion), Wayward Son is everything the epilogue to Harry Potter and the Deathly Hallows wasn't: a serious meditation on what happens to young people who were co-opted from birth in a war that's now over. Major defining traits of their identities – the wartime roles they were conscripted for – have evaporated, leaving them with a lot of free time and even more trauma.
In Rowell's world, the character most affected is Simon himself, still reeling from being both an ex–Chosen One and an ex–magic user. Penelope and Baz at least still have their families and their magic, anchors to their identities now that the war is over. Simon has none of that, and he's starting to feel that he may no longer belong with the two people he feels closest to in the world. Penelope and Baz recognize this but aren't sure how to help him – hence, Penelope's insistence that all three of them take a road trip through America.
But just because Wayward Son is in part about figuring out that you need therapy doesn't mean it's not also a lot of fun. (Alert: Simon and Baz go to a RENAISSANCE FAIRE.) One of the things many readers loved about Carry On was its similarity to fan fiction; in a lot of ways, it is a Harry/Draco fic. Simon and Baz are their own people, of course, not stand-ins for Rowling's characters, but there's still a distinct (and pleasant) essence of fan fiction about the whole enterprise.
If turning enemies into romantic pairings is the fan fiction concept Rowell plays with most in Carry On, Wayward Son tackles another popular genre: bringing British wizards to America. The Britishness of Harry Potter is so ingrained in our collective psyche that there's almost something cheekily transgressive about Rowell planting her wizards in the most stereotypically American setting of all time, the road trip. A quarter satire and the rest a genuine and consistent exploration of what the Simon Snow magic system looks like in the US, it's an utter delight to see what Rowell does with her characters in the open expanse of the western United States. (And consistency is key… pour one out for Ilvermorny.)
Finally, despite the contrast I just set up between "needs therapy" and "is fan fiction," the brilliance of Wayward Son is that the two actually go really well together. Fan fiction is often about putting beloved characters in situations more "real" than the ones they encounter in the speculative universes in which we first meet them. It's about bringing characters we love closer to our world and always asking, "What would happen if…?" Rowell does just that, and we're lucky to be along for the ride.
A copy of this book was provided by the publisher, Macmillan, for review.