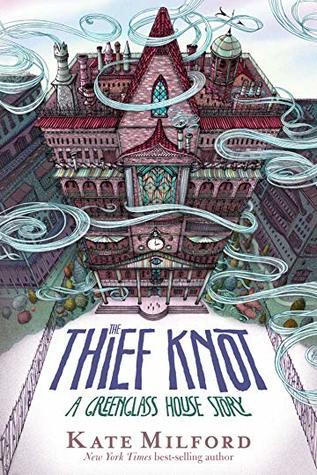 Returning to the rich and mysterious city of Nagaspeake, where a suspicious kidnapping has taken place, Kate Milford brings us a brand-new adventure, featuring characters both old and new from the world of Greenglass House.
I will say before we begin that this is only my second Kate Milford novel. I fell in love with Greenglass House and snatched at the chance to read The Thief Knot when it came out in January 2020, but there are several books set in the same world released in between. That being said, The Thief Knot is a stand-alone novel, and while it was clear I would have recognized some of the characters if I'd read some of the other books, I didn't feel it was at all necessary to the story. A true stand-alone tale!
One of the major strengths of this book, and the reason I couldn't put it down, is the worldbuilding. Nagaspeake is a richly beautiful place, with ghosts, secret passageways, dried-up aqueducts, and a mysteriously organic substance called "old iron," which worms its way into buildings, subway lines, gateways, and your heart.
The book starts off with the main character, Marzana, learning that there has been a kidnapping of a prominent politician's daughter. Her parents, a famous smuggling captain in hiding and an ex-customs agent, are enlisted to help in the search, but they don't believe the missing girl, Peony Hyde, is still in the city. Thinking her parents might be wrong about this, Marzana decides to put together her own team of kids to solve the mystery.
I will say that the mystery itself unfolded a bit slowly for me. While on one hand I was kept guessing until the end, the kidnapping didn't exactly feel like the main focus of the story until maybe halfway through the book, as we follow Marzana putting together the group before they begin to work on finding out where Peony Hyde has gone. That being said, I was captivated by Marzana's discovery of the wonderful weirdness that has been hiding behind the halls she's walked her whole life, so it didn't bother me that it wasn't an action-packed mystery at first.
While there are so many details that have stuck with me – the radiated glass museum, the bridges built to nowhere – Marzana's parents and their role in the story is something that really left an impression. So many middle-grade and YA stories use absent parents as a means to place their protagonists in situations where they must rely on their own nerve, skill, and problem-solving skills (ahem, Harry Potter), but The Thief Knot does a wonderful job of weaving together Marzana's development as an independent character, her home life with two incredibly loving, supportive parents, and the occasional consequences that come with seeking out adventure on your own.
Set in an unspecified area of the east coast, Nagaspeake is a separate entity from the United States and feels like its own version of the wizarding world. Kids there read Harry Potter and wish that they had cell phones but also live comfortably among a community of smugglers and thieves and read books like Quester's Crossroads, the choose-your-own-adventure series that requires you to cut out sections of the book to find out the next course of action.
The Thief Knot is a fairly long book, at 464 pages, especially for middle grade, but I wanted to crawl inside the paper and live there forever. This is a great book for middle-grade readers with a higher reading level, for teens looking for a whimsical adventure, or for adults (like me) who can't resist a world full of magic, wonder, and mystery.
Get your hands on a copy today.