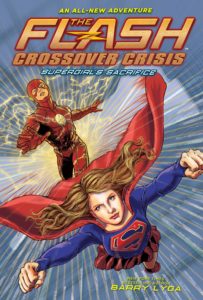 This year has already been an explosive one for the CW's Arrowverse. The conclusion of the four-part crossover series "Crisis on Infinite Earths" and the finale episode of Arrow left me with a deep yearning for more Arrowverse stories. As a result, when I first received Supergirl's Sacrifice, I had high expectations for the novel. Although it did not fulfill all of them, it was nonetheless still an exciting and refreshing read.
Supergirl's Sacrifice is the second part of this Crossover Crisis trilogy, picking right up where Green Arrow's Perfect Shot left off. In the first book, the Flash and Team Arrow successfully closed the dimensional rift looming over Central City, but with disastrous, unintended consequences. In Supergirl's Sacrifice, Team Flash, Team Arrow, and Team Supergirl are forced to deal with the fallout. Curtis and Cisco are lost in time. Thousands of Earth-27 speedster refugees are stranded on Earth-1. Owlman is hiding disguised among the citizens of Central City, patiently planning his attack. Ambush Bug is on the loose and wreaking havoc in Star City. As if our superheroes don't already have enough issues to tackle, Anti-Matter Man has arrived on Earth-38 to destroy it. Although appreciating this book fully would require some knowledge of the four shows that comprise the CW's Arrowverse, the villains are all original adaptations, so readers would not be missing out on much if they are not well acquainted with it.
Balancing four separate storylines is no mean feat. Lyga masterfully switches between the four completely different settings, allowing readers to dig into and be fully invested in each conflict. Not only that, but he also does an incredible job building tension by setting up four seemingly insurmountable problems that leave readers constantly wondering if the superheroes' missions will succeed. Although it is heavily foreshadowed throughout the book, the final plot twist still packed an emotional punch because of how much I had come to root for the characters.
Additionally, I found the use of original DC villains to be quite an innovative idea, instead of reusing characters from the Arrowverse. It kept the book refreshing and suspenseful since these are characters that I'm not familiar with, and I couldn't wait to find out more about them and their abilities. In particular, Madame Xanadu was an intriguing character due to her ability to use real magic rather than metahuman powers.
On a side note, I greatly enjoyed the callbacks to the main television series, such as the mentions of Catco Worldwide Media, the League of Assassins, and the previous three-part crossover series "Crisis on Earth-X." It made for much fun to spot them all.
That being said, what threw me off was the way certain characters were portrayed, which I felt was sometimes inconsistent with the television series. For instance, I expected Felicity to be less romantic and Oliver Queen to have a slightly more authoritative and commanding persona. However, I admit that other readers might disagree with me since everyone has different interpretations of these characters.
Additionally, as much as I appreciated the amount of detail put into character development, I also felt that at times it detracted from the action and made the pacing a little draggy. I would have preferred the book to be more action-packed.
Overall, I would recommend Supergirl's Sacrifice to fans of the Arrowverse. It is a gripping read that lives up to the high standards set by the television series and a satisfying read while we await the new seasons of the shows come 2021.
A copy of this book was provided by the publisher for review.
Buy on Bookshop.org Buy on Amazon