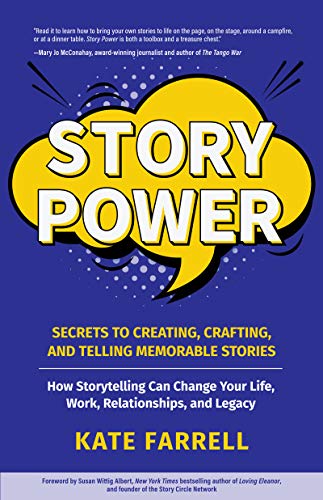 Story Power, by Kate Farrell, is an empowering and informative how-to guide for authors of all types. From folklore to novels, Farrell has helpful advice for creating and crafting stories that connect authors and audiences.
Story Power begins with an energizing foreword by Susan Wittig Albert, which encourages and inspires women to share their stories. Story Power consists of five chapters that focus on utilizing real-life inspiration, crafting stories, and delivery techniques. The book includes contributions from more than 20 authors, who share unique writing tips for various styles. This book provides practical advice for all types of storytelling, including traditional novel writing, casual word-of-mouth storytelling, blogging, and more.
What I like most about Story Power is that it can be read cover-to-cover or used as a reference guide. The book is well organized and includes useful labels for "creating," "crafting," "telling," and "exercises and prompts" to help readers quickly locate the information they are searching for. Story Power doesn't contain a lot of the traditional repetitive writing advice; Farrell does an excellent job of teaching readers how to examine their own lives for stories and unique perspectives. She also teaches writers how to connect with audiences in a meaningful way.
As an English major and aspiring author, I have read quite a few books on the subject of writing. I was expecting this book to have a lot of the same information that other writing books have. I was pleasantly surprised by the fresh perspectives provided in this book. Farrell guides readers through the art of storytelling by revealing how our own lives tell a story. She provides readers with practical advice on how to craft compelling stories from life experiences and more. Whether you want to share memorable stories with your friends or write a compelling novel, Story Power has something to offer for every storyteller.
A copy of this book was provided by the publisher, Mango Publishing Group, for review.