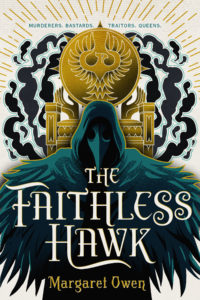 The Faithless Hawk, by Margaret Owen, is the conclusion to the epic tale she began in The Merciful Crow. After delivering Prince Jasimir to his allies, Fie heads out with her band of faithful Crows. The duties of a Chief weigh heavily on her shoulders, but with her kin beside her (plus her charming kitty, Barf), what could go wrong?
I can hardly say more about the plot without spoiling it, but let me give you a few words to preview what you're in for when you pick up this book.
NEW CHARACTERS
DEAD GODS
ESPIONAGE
MORE ESPIONAGE
CAT-MASTERS
DEPUTY CAT-MASTERS
Okay, I think that should give you a good idea of what's in store.
Basically, if you liked or loved The Merciful Crow, you are in for a serious treat. The Faithless Hawk takes everything you loved about the first book and turns it up to 11. You thought Owen had already built an incredible world? THINK AGAIN. This book delves so deep into the mythology and history of Sabor and still has time for cat-master antics. You thought it wasn't possible. It is.
Once you get your hands on this book, you better cancel all your plans. This novel demands to be read in one sitting (I somehow managed to sleep before reading the final section – don't ask me how). Plus, you'll immediately want to read it again like I did.
The Merciful Crow was my favorite book of 2019. The Faithless Hawk might be my favorite book of the roaring 2020s.
Don't forget to check out our interview with author Margaret Owen to see what she had to say about this duology and her future plans.
A copy of The Faithless Hawk was provided by the publisher, Henry Holt and Co., for review.