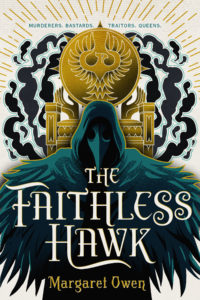 We had the pleasure of speaking with author Margaret Owen last year after the release of The Merciful Crow (TMC). With the publication of The Faithless Hawk (TFH) only a day away (eek!), we caught up with her again to discuss the conclusion of Fie's story. Find out Owen's favorite moment in The Faithless Hawk, whom she'd cast in the movie, and how to make panbread. We'll be eagerly awaiting her next novel!
Does the chief salting the panbread come from anywhere? Also, do you have a panbread recipe?
One thing I'm always interested in is how different cultures view and interact with food and meals! Everything from customs about how to eat politely to how to consecrate food. For the Crows, salt is something of a ritualistic purifier: We see Fie wash up with salt after handling plague victims, and salt is scattered over infected lands. Salt was also pretty hard to collect back in the day, so the tradition of salting the meals came from a chief's duty to both bless the food and ration out valuable commodities.
As for panbread, there's no set recipe, BUT it's a relatively standard unleavened flatbread! Throw together some flour, water, and dairy if you feel fancy, knead it a bit, let the dough rest for half an hour, then pinch off a chunk, roll it out, and toss it on a hot griddle. Be sure to get both sides!
There is so much more lore in the second book! Did you already have this planned when writing the first one? TMC establishes the characters and the world through a simple quest (get princeling to point B), while TFH adds more about Crows, the other castes, the dead gods, and the history of Sabor. Was this always the plan?
This was always the plan! I've been sitting on every secret in TFH for literal years. There's a quote from TFH that I've had on my laptop since early 2018! It's been a torment, haha. I wrote TMC with the idea that it could stand alone, but there were seeds of more stories to come. TFH is where those all burst through the soil, going, "You thought you'd seen the last of me?"
Without any spoilers, what's your favorite moment in TFH? Can you share a favorite quote?
I enjoyed writing every scene with the cats, but I think one of the moments that hit me the hardest was when Fie has that moment of vulnerability, reflecting on how she hasn't been allowed the kind of carefree joy afforded to other teen girls. Sometimes a narrative can set apart a heroine as "not like the other girls," and I wanted to push back against that.
As far as favorite quotes… Without spoiling too much, I have been building toward "Instead, it sent a Crow" for a very long time. (That is, in fact, my laptop quote.)
What's your next book? Last time we spoke, you said you might consider writing more about Fie if the reader demand was there. Do you have any plans for more stories about our favorite Crow chief?
My next book is actually in a totally different world! It's a loose retelling of The Goose Girl, a fairytale about a princess whose maid steals her identity, making the princess work as the castle's goose girl, while the maid almost marries the princess's betrothed prince.
However… this book is from the point of view of the "wicked maid," who has been using the princess's high society access to pull off a series of jewelry thefts. Then she crosses the wrong local deity and winds up cursed to turn into jewels herself, unless she can make up for what she took by the full moon in two weeks. It's a fun blend of awkward laughs, like an unrepentant jewel thief getting bullied by orphans as she's angrily trying to do good deeds for them, and more serious questions about lives that make it hard to be good.
I don't currently have anything officially on the books for Fie and her crew, as TFH wraps up the bulk of her remaining plot threads. But I never say never! And it's a big, big world. There's always room for more stories.
Who are some of your favorite authors to read?
It depends on my mood! When I'm feeling like cracking open an old book of fairytales, I pick up Naomi Novik or Margaret Rogerson. When I want Black Girl Magic, L.L. McKinney and Dhonielle Clayton always deliver. When I'm looking for Knife Girls With Big Feelings, it's gotta be Tara Sim and Leigh Bardugo. I'm pretty sure all of these people have made me cry, by the way, and I'm not even mad about it.
Do you have a dream cast for if the series were to be made into a movie?
Zendaya. Zendaya plays everyone. Except the cats, who have to be played by the cast of Cats: the Musical: the Movie (2019). If Dame Judi Dench cannot commit to playing Barf, why even bother?
***
Thank you so much to Margaret Owen and her publisher, Henry Holt and Co. As always, you can follow her on Twitter/Instagram at @what_eats_owls and catch updates for the series at themercifulcrowseries.com! Click one of the buttons below to purchase The Faithless Hawk.