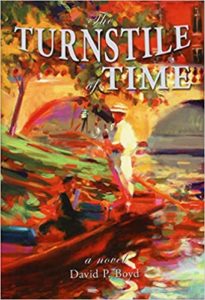 The Turnstile of Time, by David P. Boyd, challenges modern literary conventions with a coming-of-old-age novel in which the main character, Nathan Lee, reflects on and reconciles many of the events of his life, from working on his Ph.D. at Oxford to near retirement age.
The novel's plot centers around his friendships and relationships with four people in his life rather than an event-driven narrative. It felt a bit like the story arcs were contained within the parts and there was not an overarching narrative besides an old man recounting his life experiences. The Turnstile of Time reads like a fantasized memoir divided into three parts. Each part represents a part of Nathan's life, the first being his experience pursuing a Ph.D. at Oxford, the second being his brief first marriage, and the third and final part being the man moving on from that marriage.
Part 1 introduces Nathan to his best friend, Tony DeLuca, and his first female romantic attraction, Olivia. Tony is a character who certainly keeps the reader on their toes and has surprising insights and antics throughout the book. I found it rough to read Part 1 because it had a lot of obscure and over-the-top references that I didn't understand even though I have two humanities degrees (and am working on a third). I also did not find Tony or Nathan to be people I particularly related to or liked, even though I'm on my second graduate degree.
But to qualify that, I do not feel like I am in the target demographic because I am a female just entering their academic career. But perhaps someone male or someone who has been in academia or likes Faulkner's verbosity with a Hemmingway vibe would like this depiction, though I did gain some insight into the postgraduate experience at Oxford and I appreciated that the character made light of and poked fun at the massive ego surrounding universities.
But I began enjoying the story during Part 2, and the novel gained traction. Tony DeLuca is still around as the best friend, but Part 2 focuses more positively on Nathan's female relationship. Olivia is seen through a heavy male gaze. But during Part 2, Claire is introduced in a more equitable and respectable way. Claire eventually becomes Nathan's wife, and they have four years together before she suddenly dies. Boyd provides a frank and relatable depiction of end-of-life care, which is unlike anything I have read before.
Part 3 is Nathan moving on from grief after losing Claire. For Nathan, "moving on" is both mental and physical, as he moves to Montana. Nathan must navigate life without his wife and in a new place. But he makes friends along the way, including a preteen, her mother, and their trusty dog, Rolf. This part has lighthearted jests and a happy ending that left me feeling content.
Overall, The Turnstile of Time was not my favorite book ever but certainly not my least favorite either, and people who are nearing the end of their careers or have experienced marriages would likely get much more out the book than someone who is not married and at the beginning of their career.
A copy of this book was provided by the publisher, Coastal International Inc, for review.