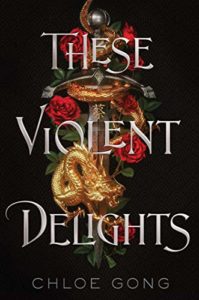 Chloe Gong believes in an interesting mantra: "Romeo and Juliet is one of Shakespeare's best plays and doesn't deserve its slander in pop culture." Although it surely raises many eyebrows, her debut novel, These Violent Delights, might just convince you that she's right. Set in 1920s Shanghai, the book follows the two heirs of the warring gangs that rule the city – Juliette Cai and Roma Montagov, who also happen to be ex-lovers. While a blood feud tears them apart, a monster ravages Shanghai, forcing Juliette and Roma to work together to kill it.
Gong might be a new author on the young adult block, but her writing demonstrates flair and complexity that surpasses all expectations. Throughout These Violent Delights, she masterfully balances the pace of action, worldbuilding, and character development to create a riveting plot, a compelling city, and richly layered characters. Additionally, a myriad of conflicts – of domestic power, of imperialism, of gender and sexuality, of different backgrounds, and more – are seamlessly woven together so readers are sucked into the intense story from the prologue and will not want to put it down until its satisfying end.
Most importantly, Gong puts a unique spin on the timeless Shakespeare classic Romeo and Juliet, infusing Juliette and Roma's antagonistic relationship with the core themes of the original play while simultaneously adding her own twists to their journey. Although many people are often daunted by the thought of reading Shakespeare, Gong's imaginative and emotional retelling makes the Bard's love story accessible to readers of all ages and will certainly leave them yearning for more in the sequel.
Without a shred of doubt, These Violent Delights deserves the glowing reviews that it has received from critics and writers alike. Racing through page after page of this debut novel, it is easy to forget that Gong is only an undergraduate at the University of Pennsylvania, which makes her accomplishment all the more impressive. Recently, MuggleNet had the honor of interviewing Chloe Gong, who took us on an eye-opening dive into her thoughts and writing process of These Violent Delights!
What are some messages that you hope readers take away from These Violent Delights?
I think the heart of These Violent Delights is about love and hate. There's so much hatred in the book, a lot of it surrounding the fictional blood feud, but a lot of it also pulled from true history: the fighting between the Nationalists and the Communists as they grow in power, the conflict between the native residents of Shanghai and the foreigners who are trying to assert their power.
As the arc of the duology goes on, my messages are more like questions that I want readers to be swirling around. At what point is hatred fought with hatred? At what point is hatred fought with love? What survives in the end: love or hate? What is inherent to humanity?
Shanghai in the 1920s is an interesting choice, especially since it leads up to the Chinese Civil War. What drew you to this setting? Talk us through the creative process of building up this rich and captivating world.
I started with so much familiarity around 1920s Shanghai because my parents love talking about Shanghai's history. With this upbringing, I knew of 1920s/1930s Shanghai as this fraught time between world wars, this boiling pot of domestic conflict as China tried to figure out what to do with itself. The city had so much going on just beneath the surface, but it was also one of the world centers of the era, bringing in visitors across the globe. And because Western powers held actual jurisdiction over parts of Shanghai as a result of the Opium Wars, the city was impossible to govern as one entity and the criminal underworld flourished so mightily that the enforcement of justice was wholly performed by gangsters. 
To me, this was something absolutely worth exploring: on a more personal level to grapple with the effects of imperialism and colonialism in the 1920s, and on a literary level, where Shanghai's gangster-ruled streets seemed like an extremely rich backdrop to create a fantastical version of the city that readers would be interested in.
In a way, the blood feud is already an antagonist in the novel. What compelled you to add the additional challenge of having to kill the monster?
Oooh, I love this question because I have a two-fold answer. One: I've always been fascinated by the idea of contagion, which is an extremely bold statement while we're going through a pandemic, I know, but I wrote a lot of manuscripts prior to These Violent Delights, and in almost all of them, there was some sort of fantastical disease or tangentially, a fantastical killer taking people down one by one. Half of me wants to say it's this deep, metaphorical desire to explore the few elements in this world which can bring a society down to a complete halt. The other half is pretty sure that one of the quickest ways into a high-stakes plot is to keep a sense of danger and death lurking just on the next page. 
Which brings me to two: When I was putting this additional monster challenge into the book, the monster isn't just a monster; the monster is the epitome of what is crumbling this city. The monster is the foreigners grappling at the land. The monster is the colonial powers, wiping out native Chinese in droves while no one blinks an eye. And when you find out the origins of the monster…the need to kill it will make much more sense.
One thing that I really appreciated about the novel was how seamlessly character and plot are interwoven to advance the storyline. How did you balance character development and the pace of action?
The matter of deepening character is always something that happens for me in revision, so balancing is about taking things slowly and adding new developments layer by layer and not trying to tackle everything at once. Plot tends to come to me in complete order because I'm an intensive outliner, so once I have the solid draft of Things Happening and People Talking, it's time to look at all the places where the characters can glitter, and then I sew details into those places to make it shine.
What was the creative process like, coming up with the politics and power dynamics between the two gangs?
Super fun, actually! I love having visuals in my head when I write, so from the get-go, I wanted the two gangs to look distinct. That presented itself first in the colors (which is where the gang names developed from), and then the more I thought about the colors they would use to differentiate themselves in their territories, this led to thinking about what sort of spaces they would occupy. The Scarlet Gang operates from a large mansion; the White Flowers operates from crowded city apartments. The Scarlet Gang has been around since before the imperial dynasty fell; the White Flowers are relative newcomers who fled civil unrest in Russia. In using this to establish a few core values and traits that each gang values as a result of their position in the city, I could then expand outward to determine how the gangs operate differently and what their goals are.
Roma and Juliette are two very different people: One is Russian, and the other is Chinese. Not only that, but also they've got a lot of past emotional baggage that they're carrying individually. What inspired you when creating these two very unique identities?
It's really interesting for me to reflect on how Roma and Juliette emerged as characters because I started building up the core of their personalities based on their original Shakespearean counterparts. I'm an English major, so when I engage with a text, I have to engage. There would be no mere transposing of plot events: I wanted to find the heart of Shakespeare's themes and go from there, which also meant finding the heart of what Shakespeare was trying to do with Romeo and Juliet. Romeo was a dreamer, someone who flitted from interest to interest at a rapid pace. Juliet was young and whimsical, but she also had this hidden steel core that led her to near-violent action multiple times in the play. From there onward, I had to expand and deepen, but it was important for me to be using the elements that I had identified from the original tale I was trying to retell.
Previously, you've talked about how you relate to Juliette as a member of the diaspora. Could you elaborate on how your personal identity has influenced the novel?
I think my personal identity strongly colors the way Juliette sees the world, which is not to say that I give her all of my observations, but that I give her a certain version of being diaspora as inspired by my own experiences. Juliette has been raised in New York, and then she returns to Shanghai as an older teenager, expected to fit right back in again, even as she goes around dressed differently from everyone else and thinking differently from everyone else.
I hope that other members of the Asian diaspora – who feel as though they are neither Western enough to be accepted in the country they live in nor Eastern enough to be accepted when they go to the country they hail from culturally – will relate to this feeling of being caught between two worlds, as if we have a foot in both but can't feel fully comfortable in either, which is very central to Juliette's character.
There are lots of secondary characters in These Violent Delights, and they've all got their own standout personalities. How did you go about designing these characters, and how did you balance them out such that each could shine on their own?
To me, secondary characters have to feel real enough that they could have been main characters if the narrative simply moved in some way to focus on them instead. We all feel like the main characters of our own stories, right? Secondary characters are the exact same when I'm creating them: I have to know just as much about them as I do my main characters, but then I don't necessarily pull all of it onto the page, nor is it the story I'm aiming to be telling. That way, they're shiny and real, but they're also only in this story because they exist in relation to the main characters, so they don't overshadow!
Do you feel that being a college student influenced your writing style in any way?
Being a college student means that my schedule is constantly packed, so it's forced me to develop really, really good habits in general, and by effect, good writing habits, which doesn't mean I write like one of those fancy montages in movies. In fact, most of my writing sessions are from 1:00 a.m. to 3:00 a.m., but when I do sit down to write, I've planned exactly what I'm doing, and then I get everything in my head down onto the screen.
In a genre that is heavily dominated by well-known authors, what do you believe are the unique value and challenges of younger, up-and-coming writers?
At least personally, my background and relative newness to the industry mean I'm still heavily influenced by the readership, with my finger right on the pulse of what is currently loved in YA, because I haven't quite left it yet! Basically, it's not to say that I write to the market, because I only write the ideas that I love, but while I'm so integrated into the buzz of online fandom, what I love is also what they love, and I hope that translates in the work I'm creating.
***
This interview has been lightly edited for length. Thank you to Chloe Gong for this exciting interview and for taking the time to share these insightful responses! You can find her on her website or on Twitter at @therealchloegong. These Violent Delights will be published on November 17, 2020, but it is already available for preorder. An advanced review copy was provided by the publisher, Simon & Schuster.