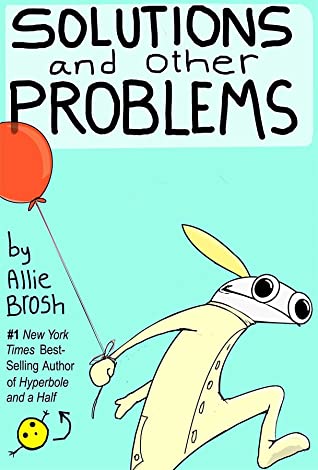 Allie Brosh is back! For those familiar with her blog or her first book, Hyperbole and a Half, you already know why this is a bright spot in the craziness that is 2020. Her new book has been a long time coming with several delays in publication, but it feels more relevant than ever. Solutions and Other Problems is a collection of personal anecdotes and meme-able illustrations that will have you tearing up – both in helpless laughter and from Brosh's painful insight about the realities of life.
While I lean toward calling this book "heavily illustrated" rather than a graphic novel, Brosh's artwork is essential to getting the full effect of her stories, and every page is packed full of pictures. Her signature style of child-like drawings – which has gifted the internet with such references as "ALL THE THINGS!" or the "alot" – is back on full display, though this time there are also several backgrounds and other pictures subtly demonstrating for anyone in doubt that, yes, she is a very talented artist, and the simplicity is obviously planned for humorous effect.
And humorous it is – combined with the writing, it's often downright hysterical. It's easy to see an evolved version of the blogger whose posts left me laughing until I couldn't breathe back in college. But Brosh's humor is sharper now, somehow; we live in a very different world from the one in which she released Hyperbole and a Half in 2013, and it shows. Fewer of her stories read like a stand-up comedy bit, and there's a little more of Brosh learning to laugh at the random absurdities of life while recognizing that that's sometimes all you can do in the face of various existential crises. Brosh herself has been through hell in the seven years since her last book's release, which she details in several chapters, appropriately less humorous than others. Anyone who's been hit especially hard by grief, loneliness, and feelings of powerlessness in 2020 may find these sections particularly relatable.
And therein lies the other edge of Brosh's writing. She is witty and hilarious, but she also has the gift of making people feel seen – right in those parts of us that are most vulnerable and scared and confused. Her work in Hyperbole and a Half is a blend of comedy and profound examination of more serious topics (her pieces on struggling with depression and anxiety are especially poignant); Solutions and Other Problems expands that structure to another level. Some chapters are light, and some chapters are heavy. Many are a roller coaster ride between the two. It's amazing how Brosh can write about something truly awful in a way that makes you feel like everything will be okay – or even lets you laugh – while she can also make the simplest sentences in a funny story so devastating that you need to piece your heart back together before reading any further. (That's not an exaggeration. Several points in the book saw me having a full-on ugly cry, rivaling, and possibly even exceeding, the tears brought on by A Dog's Purpose and my first read of Harry Potter and the Deathly Hallows.)
Considering some of the potentially triggering topics and the occasional use of four-letter words that might offend some readers, I can't in good conscience say this is a book for everyone. Humor books rarely are – although if you're curious about this one and want to see if Allie Brosh's brand of funny matches your taste, I'd recommend checking out her blog, where she has plenty of her illustrated stories available to read, including a chapter from Solutions and Other Problems.
But this is certainly a book that will make you feel things, whether they're pleasant, uncomfortable, or simply the ordeal of being known. In funny and serious segments alike, it forces readers to face the idea of resilience head-on. To quote Brosh's words, "Sometimes all you can really do is keep moving and hope you end up somewhere that makes sense."
Maybe that's the message we all really need to read right now. I highly recommend checking out all the nuances of it that Solutions and Other Problems have to offer.