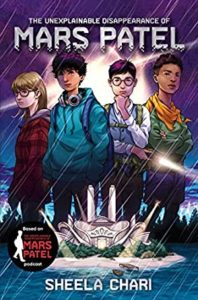 The Unexplainable Disappearance of Mars Patel, by Sheela Chari, is a novel based on a podcast. The podcast is a scripted serial mystery for middle schoolers and voiced by middle schoolers. The novel follows the friends from the podcast as they try to find out why their friend Aurora has disappeared.
This book (just over 300 pages) is told in mostly third-person narrative, with podcast transcripts, emails, and text messages interspersed throughout. Mars typically narrates the book, though there are sections narrated by the other friends.
There are a lot of friends, and it was a little difficult keeping track of who was who. But Mars seems to have a special relationship with each friend and often remembers moments or has meaningful conversations with each of them. One of my favorite moments was Mars's conversation with JP, a nonbinary character, who tells Mars, "You took care of me. I'll do anything for you." The kids are really very sweet.
I had never listened to the podcast before picking up this book, so rest assured that you can enjoy it without having checked out the audio show. The main plot of the book is the mystery involving the disappearance of their friends, but it also involves questions about each kid's past as well as Oliver Pruitt, the genius podcaster/private school headmaster the kids like.
This is a fun book for any middle schooler who likes a good mystery and a sweet group of friends. The majority of the novel is the kids hanging out, trying to discover what's going on, so if you like lots of dialogue and mischief, you'll enjoy Mars Patel. Also, don't be shocked if not all of your questions are answered by the end of the book…
A copy of this book was provided by the publisher for review.