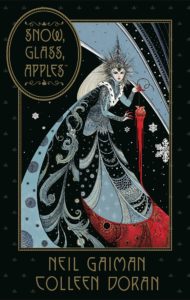 From powerhouse author Neil Gaiman comes an eerie, atmospheric, and completely new retelling of Snow White. With Harry Clarke–inspired art by Colleen Doran, this graphic novel is a new staple on my shelf.
The old story is a familiar one: a young princess left to be raised by her wicked stepmother is spared death by a kindly woodsman. Instructed to murder her on the edge of the forest, he instead allows her to flee into the woods. There she lives with seven dwarves until a handsome prince comes to whisk her away. Or something along those lines. All of that – sort of – happens in Gaiman's retelling, only we learn that there is a lot more to the story.
Told from the perspective of the so-called evil stepmother, Gaiman's retelling is full of unexpected twists, horrifying truths, and devastating imagery. Instead of the sweet-tempered, soft-spoken girl we know from the Disney version, Snow White is a monster. Whether the stepmother herself is also a monster you'll just have to read to find out.
I loved everything about this story. It is absolutely, firmly in the style of Gaiman that I have come to adore. But what really made this book a classic for me was Doran's accompanying art. The style is incredibly lush and detailed. I want a blown-up version of every page to post on my wall, even if they would probably give me nightmares. The color scheme and the art style made me feel as though I were reading a much older book – as though this, not the chipper birds and bashful dwarf version, were the original tale.
So much of the story and the drawings reminded me of the horrific origins of some of our well-known fairytales. Together, Gaiman and Doran perfectly captured the odd correlation between horror and children's stories. That relationship has always been present in fairytales for me.
One bonus feature that I really appreciated was the inclusion of Doran's drawing process. There is a series of images of her in-progress drawings at the back of the book, as well as some background on her inspiration: Irish artist Harry Clarke.
All in all, if you find that the junction between horror and fantasy is a place where you are happy to live, this graphic novel will be the perfect addition to your bookshelf.