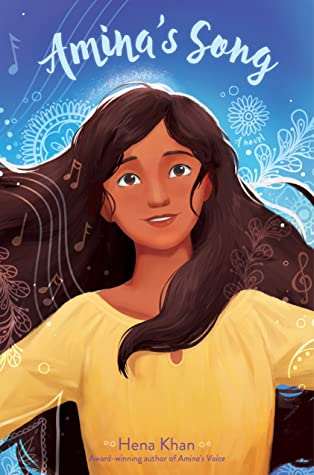 Hena Khan's Amina's Song, a follow-up to the 2017 Amina's Voice, sees middle-schooler Amina on a mission to show her American classmates the beauty of Pakistan after returning from a summer trip to Lahore to visit her family. But through navigating the trials of seventh grade, worrying about her uncle's health, and finding a balance with new friends and activities, Amina realizes it's time to find the courage to share her experiences not just with her classmates – but also the world.
Her story had me smiling from start to finish. Not having read Amina's Voice (though I'm certainly adding it to my list now!), I was concerned that I would be missing something – but for no reason. Although elements from the previous book are referenced, it's so skillfully done that I never felt like I was missing part of the story. Khan introduces characters new and old seamlessly, and I was pleased to find that they're both wonderfully likable and human, which is a difficult balance to strike!
Amina is a sweet-natured protagonist, and her narration took me right back to seventh grade. Beyond the average, relatable worries about school projects, making a new friend, and family drama, Amina's reflections on many Americans' perceptions of Muslims and Middle Eastern cultures are as relevant as ever. I felt Amina's frustrations about her friends just "not getting" how her wonderful experiences in Pakistan changed her, and it was hard to read how she struggled with her classmates' questions and comments after her initial class presentation on activist Malala Yousafzai. Of course, this made Amina's eventual triumphs all the more satisfying.
This is one of those books that I wish I'd had back in middle school. There's something for everyone to relate to – whether it's the awkwardness of a preteen school dance, terrifying speech assignments for class, trying new activities, or the weirdness of the age where people start noticing each other in new ways. Other experiences may not be as universal: for instance, calculating time zones to talk with family across the world, trying to balance cultural pride with not wanting to stick out as the "ethnic kid" in school (as Amina's brother puts it), juggling religious activities, worrying about beloved relatives' health, and more. I grew up without seeing a lot of the latter topics in YA books, so it's refreshing to see them here. I'm so encouraged by Khan's contributions to making these experiences seen, not just for the readers who have been there but also for expanding other readers' horizons.
Amina's Song is perfect for the middle-grade reader, though it's easily enjoyable for anyone above that level as well. Whether you've read Amina's Voice or not, I'd recommend giving this sequel a try!
A copy of this book was provided by the publisher, Simon & Schuster, for review.