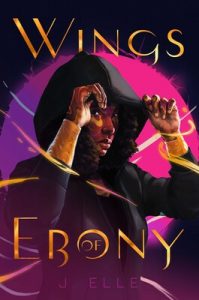 Wings of Ebony, by J. Elle, is about Rue, a teenage girl who's whisked away to the magical country of Ghizon after her mom's death. When I first picked up the book, I was expecting a story about a girl discovering her magical abilities and acclimating to her new home. I'm happy to say that I was completely wrong.
Wings of Ebony is a fast-moving book set in both the magical Ghizon and today's Houston. Elle expertly uses flashbacks to fill in the story and tell us what's happened in Rue's past, adding dimension to all the characters. While the story includes some interesting secondary characters (Bri's arc and motivations are very well-written, and you'll fall in love with Tasha), Elle's characterization of Rue is fantastic. She's tough, fierce, loving, and protective. Watching her grow and change throughout the book is extremely satisfying.
My favorite thing about this book – and, I think, what sets it apart from other stories of this nature – is Rue's devotion to her home. She had absolutely no desire to leave Houston's East Row and resents her father for taking her to Ghizon. Everything she does is motivated by her love for her sister and their neighborhood. Rue refusing to abandon her home and her friends contributes to both her characterization and the plot, and it's very meaningful watching her stand up for her neighborhood – especially when the main villain insists that there's nothing redeeming about it or people who look like Rue.
This book has everything young adult readers love – mystery, action, romance, fantastic characters, and magic. Most importantly, it shows a young Black girl who is fiercely proud of her heritage and her neighborhood. Rue embraces and loves who she is, and it's incredibly powerful. Wings of Ebony is a must-read.
A copy of this book was provided by the publisher, Simon & Schuster, for review.