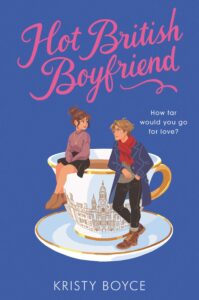 Hot British Boyfriend, by Kristy Boyce, is the perfect start-of-spring, get-us-out-of-this-pandemic delight you never knew you needed. And it's FULL of Potter references!
I love contemporary romances for the break they provide from all of the dark, heavy fantasies filling the shelves these days. If you're in need of some silly, nonsensical adventures set in jolly ole England, this book is just the fix.
The story follows high schooler Ellie, right as she suffers the sting of public humiliation from her crush and decides to recover on a study abroad program in London. Upon arriving, she is instantly smitten with Will. He's British. He's charming. And as the title of the book suggests, he's quite the beauty. And he seems to like her back. But unsure how to navigate snagging Will for keeps, Ellie needs a little help from her friends to make it happen. Queue the wild shenanigans.
I have to admit I was a little hesitant when I flipped the first few pages of this book. We've seen countless wanderlust-type stories over the years about teens falling in love in foreign places. (Anna and the French Kiss, anyone?) And Ellie was a little bit of a… hot mess, shall we say? She's fairly boy-obsessed at the start, and she's the type of character you feel nonstop secondhand embarrassment for.
But don't let that dissuade you! Ellie's downfalls in the early days are what allow her to have a lot of character growth. Midway through the book, you really start to notice her shedding some of the old habits as she shifts more comfortably into her own skin. If you can set those initial worries aside, you'll get just as caught up as she does in the beauty of traveling England, falling in love, and laughing over the silliest things with your best friends.
And then, of course, there are the friends in question. They're goofballs, full of Harry Potter and Jane Austen references to keep you giggling with glee. And they're great support for Ellie as she pursues Will. Speaking of which…
Will's quite the charmer. He really, really is! I was on board the Will train pretty instantly. But he's not the only handsome lad running around across the pond with Ellie and the gang. Keep your eyes peeled when you read, and you'll find a lot more going on than this book first lets on in the romance department!
Overall, this book was a fun getaway. It's a quick, easy read that lightened my mood and brought a smile to my face. What more could a romance-loving girl like me ask for these days?
A copy of this book was provided by the publisher, Harper Teen, for review.