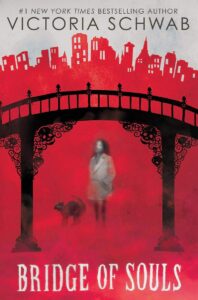 In this third installment of Victoria Schwab's City of Ghosts series, Cassidy Blake finds herself in New Orleans, where her parents are filming segments about the city's haunted history for their television show. But though Cassidy is gaining confidence as an in-betweener (someone capable of traveling between our world and the Veil, and responsible for sending lingering ghosts "on"), she's troubled by a vision she had in Paris of a skeleton – on this side of the Veil – watching her from a train platform. And to make matters worse, her ghostly best friend, Jacob, is becoming far stronger than he ought to be, able to manipulate objects in the physical world.
Fellow in-betweener Lara would tell Cassidy that it's time to send Jacob on, but Cassidy doesn't even want to contemplate it – especially not when the ominous skeleton reappears in New Orleans. It's serious enough that Lara herself makes her way to Louisiana, determined to help Cassidy and locate the Society of the Black Cat, a secret organization of supernatural experts. But New Orleans history is full of pain, death, and magic…a dangerous combination for three friends who live on the border of this world and the next.
Bridge of Souls is sure to delight anyone who enjoyed the first two books in the series. Something I've always loved about these books is Schwab's vivid descriptions of the destinations where Cassidy's parents are filming, weaving her narratives around the food, culture, and history of a given city. This time, it's New Orleans's time to shine, and during a year when travel has been restricted, I appreciated details about fresh, hot beignets and the independent character of the city's streets all the more.
Another thing MuggleNet staff members have always enjoyed about these books is the frequent allusions to Harry Potter – Schwab has publicly discussed what the books meant to her, and Cassidy is a fan too. These references might be received less warmly now than they were in the past, through no fault of Schwab's own. If your own relationship with Harry Potter has changed since Potter's author made her transphobic views plain, or if you are recommending this series to a friend whose views have changed, you may want to be aware going in that these allusions are there. They are a very, very small part of the story, and I didn't find them distracting, but others may feel differently.
The novel also satisfyingly elaborates on the worldbuilding begun in the first two installments, showing us more of the secrets that lurk behind the Veil and more about the network of people who know about them. It's not a long book, so I don't want to go into too much detail, but I will say that the evolution of Cassidy's friendships and confidence in her abilities did make Bridge of Souls feel like the end of a three-book arc (although I believe more books will be published in the series). I certainly hope this isn't the last we'll see of Cassidy, anyway! I definitely recommend this series for fans of Schwab's other works.
A copy of this book was provided by the publisher, Scholastic, for review.