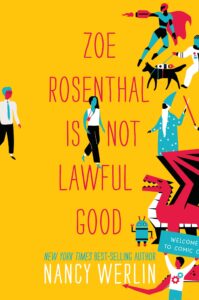 Zoe Rosenthal has got it all planned out: help Alisha Johnson Pratt get elected, attend the same college as her dreamy and socially conscious boyfriend, Simon, and then live happily ever after as a power couple crusading for justice. And she wants all of those things. She really does. The problem is that she also really wants to attend Dragon Con to watch the Season 2 premiere of her favorite television show, Bleeders – a space opera/medical drama in which a female-led spaceship crew is desperately searching for a cure to a deadly virus. Zoe knows that Simon wouldn't approve of her obsession with Bleeders, let alone her desire to attend a convention full of fans; he thinks that everyone needs to focus all their energy on issues like climate change and social justice.
And he's right – those issues are important, which is why Zoe hatches a plot to attend Dragon Con in secret, planning to watch the premiere, come home, and pick up her perfect life right where she left off. But when she bonds with fellow fans at the screening, her new friends come up with a plan of their own: save their beloved, poorly rated show by hyping it up at cons all across the country. Zoe is all in, or she wants to be – she can both save Bleeders and keep it a secret from Simon… right?
Zoe Rosenthal Is Not Lawful Good joins a growing subgenre of YA where fandom and con culture take center stage. While I have enjoyed several of those stories, I especially liked that this novel wasn't centered around one convention. Instead, the events Zoe attends serve as opportunities for a group of geographically disparate friends to gather and be with their "people," the ones who understand them like few in their everyday lives do. This has been my experience with conventions, and I really appreciated that author Nancy Werlin was able to evoke that feeling as part of her narrative. In a year when fans have gone without conventions altogether, Werlin's depictions of the Javits Center show floor and late-night hotel-lobby gatherings will likely have many readers feeling nostalgic.
I also liked the way that Werlin handled relationship dynamics and conflict. Simon is emphatically not a bad person. Though his fondness for Infinite Jest definitely raises some eyebrows, and he really needs to work on not automatically devaluing cultural products and spaces in which women's desires and ideas take center stage, he's not the enemy. What Zoe has to navigate is not so much Simon's resistance but her own understanding of who she is and what she wants outside of her relationship – something that many teens (and even older readers!) struggle with.
Luckily, Zoe has a terrific group of friends to help her through. I appreciated many thoughtful conversations depicted in the novel, on topics ranging from gender identity and expression to sexual orientation to race in fandom to body positivity and more. Finding your people is about more than finding those who enjoy the same things as you; it's also about finding those who can push you to be better and support you while you try. I highly recommend this book to anyone who has ever entered a convention hall and thought, "This feels like home."
A copy of this book was provided by the publisher, Candlewick, for review.