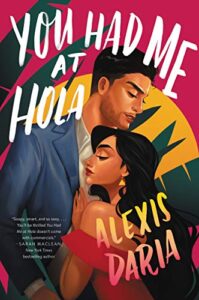 From award-winning romance author Alexis Daria comes a steamy fourth novel, You Had Me at Hola.
If you've caught any of my reviews before, you know I am a sucker for an illustrated cover. You Had Me at Hola is no exception. I picked it up when it was first released in August 2020 for the cover alone, but for whatever reason, I didn't get around to reading it until this spring. Big mistake. Huge.
You Had Me at Hola follows Jasmine Lin Rodriguez and Ashton Suarez, the two leads of a new "ScreenFlix" remake of a telenovela called Carmen in Charge.
Jasmine is anxious for this break – her first step out of soaps – and to put her very public dumping by rockstar ex-boyfriend McIntyre behind her. She's got a plan. It's called the Leading Lady Plan. Not only is it going to help launch her career, but it's also going to break her pattern of falling for every guy who gives her the time of day.
Ashton is determined to make a good impression on the first day of Carmen in Charge. Like Jasmine, this is the show that could fast-track his career. Already a star in the world of telenovelas, Ashton is ready to break out to a wider audience, where there is broader fame and a bigger paycheck. What he's not counting on is the fact that he will no longer be able to keep his personal life under lock and key. And that's important because nobody but his family in Puerto Rico knows he has a son.
In some ways, You Had Me at Hola follows a classic storyline. Both Jasmine and Ashton have their own set of rules that insist they not fall for their coworker. But rules are, of course, meant to be broken. Ashton and Jasmine's attraction to each other is palpable. But unlike in some romances I've read, their reasons for not pursuing those feelings are also believable. Part of what made me fall head over heels for this book was just how real and likable the characters are. Their struggles are understandable, and their reactions make complete sense. Life is difficult to navigate. Fame, I presume, is difficult to navigate. A lot is on the line for both of them, and so when they try to deny how strong their connection is, I didn't find myself annoyed with them. Rather, I felt compassion for their situations. Well, I was a little annoyed. Those steamy scenes were steamy.
I really could not put this book down. I'm already ready to read it again, which is unusual for me with romance, and it's kicked off a total romance binge for me. One thing I especially appreciated about this book was Jasmine's acknowledgment that she often uses alcohol to deal with her anxiety. The "liquid courage" and "I need my wine" jokes that are frequent within romance, especially with the female leads, are something that I do not love about the genre. I found it really refreshing that Daria addressed this.
As someone who often finds the genre intimidating and hard to navigate, I can't wait to recommend this to everyone I know. It's contemporary, it's feminist, and it's the perfect read for the beach, a hammock, or your couch.
Daria's next book, A Lot Like Adios, which follows another of the Primas of Power (Jasmine and her closest cousins), is set to come out this September. You can bet I've already preordered myself a copy. To pick up You Had Me at Hola, head to your local bookstore or click one of the buttons below.