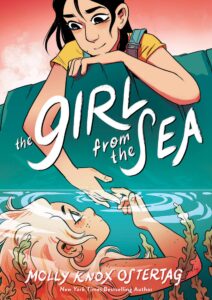 Morgan Kwon is just biding her time before she can escape from Wilneff Island, off to college somewhere far away. Wilneff used to seem like paradise, but that was before her dad left, and before her brother started acting out, and before she realized she's gay (a secret she's been hiding even from her closest friends).
But her plan to lie low for the next couple of years is thrown into chaos after she's rescued from drowning by a beautiful, mysterious girl who's "way too cute to be real." In fact, Morgan is almost certain that she dreamed it all until Keltie shows up at her front door claiming to be both (a) a selkie (a kind of magical being who can transform between human and seal forms) and (b) Morgan's true love.
And as wild as that sounds, Morgan can't help but feel drawn to Keltie, even though there's a long list of catches. For one thing, a girlfriend – especially a magical one – won't be easy to hide from her friends and family. For another, once she dons her seal skin and returns to the sea, Keltie won't be able to take her human form again for seven years. Still, as Morgan learns, some things are worth risking everything for.
Molly Knox Ostertag's The Girl from the Sea is the perfect feel-good book to kick off both Pride Month and your beach reading. Morgan and Keltie's romance is quirky and sweet, the perfect daydream for any teens languishing in seaside towns this summer. With Morgan's quest for acceptance from her friends and family (but mostly from herself), the novel felt as fresh as the salty ocean air Ostertag's illustrations evoke.
Fans of Ostertag's The Witch Boy won't want to miss this one!
A copy of this book was provided by the publisher, Graphix, for review.