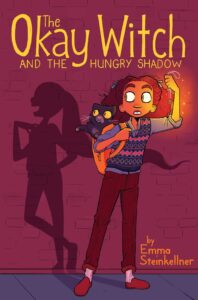 I loved The Okay Witch, by Emma Steinkellner, so I was thrilled to discover that this charming graphic novel now has a sequel!
Moth Hush only recently learned she's a witch – and that she's descended from a coven of 17th-century witches who now live in Hecate, a realm frozen out of time. Her mother, Calendula, chose to leave Hecate and lead a "normal" life in Founder's Bluff after she fell in love with Moth's father – who subsequently disappeared after Calendula accidentally cursed him. Oh, and her (adorable!) cat is technically the ghost of Mr. Laszlo, an old family friend.
Dealing with all of that would be difficult enough if it weren't for the fact that knowing magic doesn't keep Moth from being unpopular and getting mercilessly teased for being different. Moth longs for her mother to teach her more about being a witch, spells that might actually help kids at school respect her, but Calendula isn't in a hurry to indoctrinate Moth into a life she chose to leave. So when Moth sees an opportunity to "borrow" an amulet from Hecate, which promises to make its wearer a better version of themselves, she can't resist. It works, naturally enough, like a charm – but it also turns out to be powered by a demon.
All of the things I loved about The Okay Witch are present in its sequel, including Steinkellner's charismatic illustrations and the rich mythology of Moth's family history. Interwoven with the narrative are more clues about the Hecate witches' past, like how they ended up in Founder's Bluff to begin with. Even Laszlo the cat – my unapologetic fave – gets a chance to shine as he reconnects with his true love, Albee. The story also drops a few hints that the mystery of Moth's father may be featured in a future volume.
But this installment is all about confidence and self-acceptance, an evergreen theme for stories about middle school, and one that may be more urgent than ever in an age when Snapchat filters and online personas distort how we see both ourselves and others. It's not a new story, but Steinkellner's worldbuilding gives it a fresh feeling, and it's a perfect vehicle to continue fleshing out the saga of the Hush family. A cute and easy read – highly recommended!
A copy of this book was provided by the publisher, Simon & Schuster, for review.