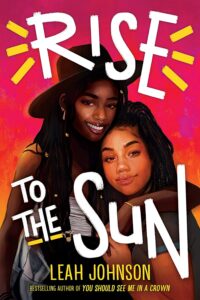 Toni and Olivia have very different reasons for attending the Farmland Music and Arts Festival (a Bonnaroo-esque extravaganza of good music, good people, and good times). Toni's a veteran of Farmland, having tagged along with her father, a roadie, every summer for as long as she can remember. This is the first year she'll have to brave the festival alone, still reeling from his unexpected death. She desperately wants to reconnect both to his memory and to the love of music they both shared, but it's proving harder than she ever could have imagined.
Olivia, by contrast, is a total newbie, intoxicated by the energy of the festival. After some serious drama with an ex-boyfriend, Olivia begged her best friend, Imani, to accompany her to Farmland, determined to have one perfect weekend before heading back to school (where she knows unkind rumors await her). Imani eventually agrees, under one condition: Olivia can't spend the weekend chasing after some infatuating crush. They both know that Imani has a point – Olivia is constantly falling in and out of love, reinventing herself for each new boy or girl who comes along. It's a habit that has caused Imani a lot of headaches and Olivia a lot of heartache; this time, she's ready to ditch it for good. Or so she intends.
Everyone's plans for the weekend go awry after Toni rescues Olivia from a truly spectacular tent-related failure. In Toni, Olivia sees a way to decimate the competition for Found at Farmland, a scavenger hunt that could score her a new car. In Olivia, Toni sees a sunny, persistent girl who should be a lot more annoying than she is – and a potential singing partner for the festival's annual competition for new artists. With Imani's reluctant buy-in, she, Olivia, Toni, and Toni's best friend, Peter, form an alliance for the weekend. And even though Olivia is really trying to honor her promise to Imani, her attraction to Toni is undeniable. Even more surprising? Toni, normally very private and reserved, finds herself feeling the same way.
I must be one of the only people on the planet not to have read You Should See Me in a Crown yet, but if it's anything like Rise to the Sun, it's easy to see why author Leah Johnson has such a loyal following. Even though both Toni and Olivia face heavy issues, this is a fundamentally joyful book, one that celebrates self-acceptance and love in all its many forms. Joy is something we could all use a little more of after the past year, and reading about Toni and Olivia's adorable romance flourishing at a music festival – a public space many of us have missed dearly – is just the thing I needed. Johnson balances real struggles and fears (the anxiety that there could be an active shooter at the festival particularly hit home with me) with an optimism that feels genuine and hopeful.
While this novel is a great summer read for just about everyone, it's also clear that it's a love letter meant to celebrate and uplift Black girls, especially ones who, like Olivia, feel that they are too messy, too needy, too everything to be respected and loved for who they are. Rise to the Sun is an incandescent reminder that these girls are worthy of the whole world, just the way they are.
A copy of this book was provided by the publisher, Scholastic, for review.