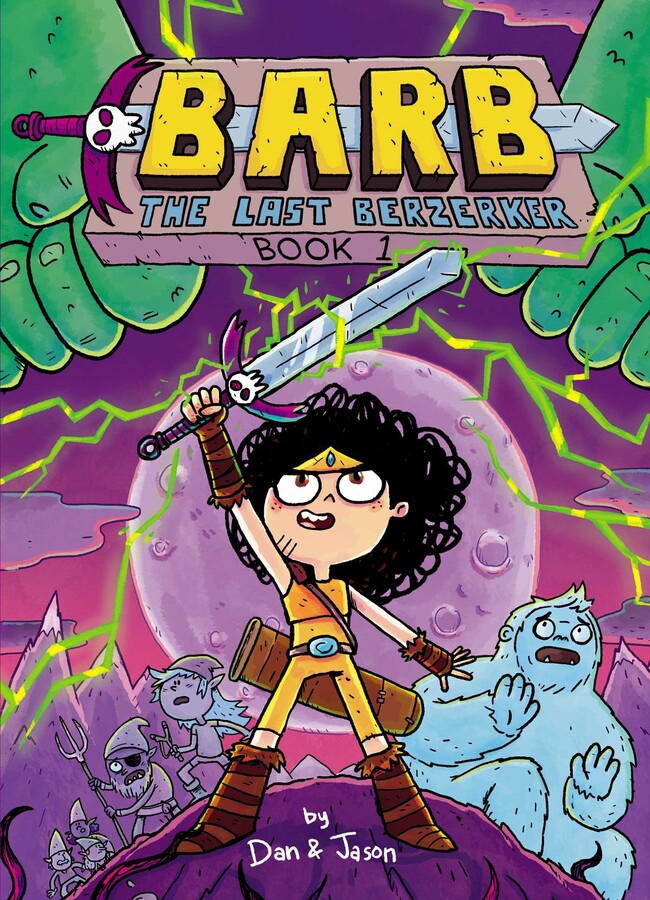 Barb is a Berzerker; she fights in the monster wars of the mythical land of Bailiwick with her Zerk family. The terrible monsters ravage the land and terrorize the people, and only the Berzerkers stand against them.
The story starts with Barb and the Berzerkers going off with an intern of the Wise Wizards to find the legendary Shadow Blade, which they believe can turn the tide of the war with the monsters. However, once the Zerks destroy the obstacles in the stronghold, they find that the intern is the evil Witch Head and wants the blade to defeat the Zerks and let monsters reign supreme.
Barb, who stays behind to stay safe, comes in just in time to get the blade and escape with it so Witch Head cannot use it. She then sets off to find the Northern Zerks and get help. As the story goes on, we watch Barb get into and out of sticky situations, and the Shadow Blade can give her massive amounts of power when she needs it. However, it also drains her energy if she uses it too much.
She is joined on her quest by a yeti named Porkchop, her main friend helping her. As Barb meets more monsters and people of Bailiwick, she concludes that they aren't all that different. She knows that the most important thing to do is to save Bailiwick from Witch Head, and even though she tries to go alone, the friends she's made along the way come with her.
This story was so fun and adventurous, and as a mother, I enjoyed reading it to my girls. Barb is strong and always willing to help, Porkchop is funny and always hungry, and they are joined in the end by a surprising group of friends to help her move on in her quest to get the real villain, Witch Head. Barb realizes that there is good and not good in everyone, and you never know who will come to your aid.
The story, told with humor and a lighthearted sense of fun, captured our imaginations immediately, and it was very hard not to be drawn into the world. By the end, my kids and I found that we could not wait to see when the next book would be out. For me, this is a sign of a young reader series that any kid would love to get their hands on.
A copy of this book was provided by the publisher, Simon & Schuster Books for Young Readers, for review.