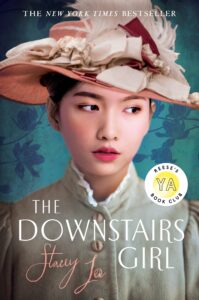 Jo Kuan is less than thrilled to be back working as a lady's maid after being unfairly fired from her job as a milliner's assistant – but she needs the work, and there aren't many professional opportunities for a poor girl of Asian descent in 1890s Atlanta. Her adoptive father, Old Gin, isn't as young as he used to be, and they can't live on his wages alone.
The only bright side is her new anonymous position as a newspaper advice columnist, Miss Sweetie, counseling Atlanta's young and fashionable on the most important topics of the day. Her progressive takes on everything from segregated streetcars to bicycles and women's suffrage make the column a huge success, but the more Jo speaks Miss Sweetie's mind, the more the city clamors for her identity to be revealed. At the same time, she knows Old Gin is hiding something from her, and Jo suspects it might have something to do with her real parents. Finding out the truth could mean sacrificing both her anonymity and her steady income, not to mention her and Old Gin's safety. Can she afford to seek the truth? Can she afford not to?
The Downstairs Girl was a recent selection of Reese's YA Book Club, and it's easy to see why. Like Stacey's Lee's other novels for young readers, The Downstairs Girl features a daring, easy-to-root-for heroine embedded in compelling historical circumstances, usually ones in which we rarely get to see Chinese and Chinese-American characters shine.
There's a lot going on in Jo's story – I haven't even mentioned her love interest, or her crack horseback riding skills, or that she and Old Gin live in a secret shelter left over from the days of the Underground Railroad – but Lee fits all these moving parts together, seemingly effortlessly, into a fast-paced and fun read. I also appreciated this novel's attention to the racial dynamics of late-19th-century Atlanta, drawing attention to Jo's experience navigating a society that often sees things in a Black/white binary while never losing sight of the specific prejudice and dangers Black characters face.
Intrigue, society drama, mysterious pasts, and just a dash of romance – there's something in The Downstairs Girl for every reader.
A copy of this book was provided by the publisher, Putnam, for review.