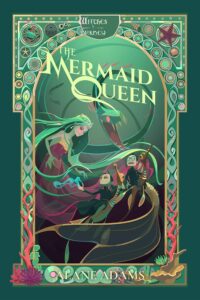 Alane Adams delves back into the land of Norse mythology and magic in The Mermaid Queen. The Mermaid Queen is the fourth book in the prequel series Witches of Orkney. The battle between good and evil is at the heart of this tale. Follow along with Abigail Tarkana and her friend Hugo as they once again try to save Orkney from dark forces.
Although Abigail previously trusted Capricorn to help her, Abigail soon discovers that the mermaid queen shouldn't be trusted. Capricorn has released Jormungand, the formidable Midgard Serpent whom Odin once banished.
Norse mythology permeates the Witches of Orkney books. I thoroughly enjoy exploring the mythology and the incredible fantasy world of Orkney, and I often found myself researching specific characters and myths to learn more about the subjects mentioned. Alane Adams does a brilliant job of bringing new light to old tales, and she has built an entirely new story around legendary tales.
What I admire most about Abigail is her determination to save Orkney despite seemingly insurmountable obstacles.
The previous books in this prequel series include The Blue Witch, The Rubicus Prophecy, and Witch Wars.
A copy of this book was provided by the publisher, Spark Press, for review.