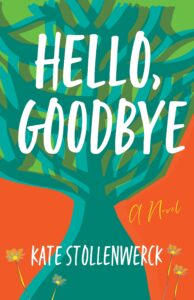 Hello, Goodbye follows Hailey, a high school student, as she embarks on what will become the most enjoyable, emotional, and heartbreaking summer of her life. With her best friend Livi sent to a wilderness camp for the summer, Hailey doesn't know how she'll spend her days. After agreeing to help her grandmother Gigi out a few days a week, her summer takes a turn as she learns her family history and fights to bring it to the surface with the help of a new friend.
I was intrigued to read Stollenwerck's book because, like Hailey, I too have stumbled upon family secrets that sound so outlandish they could only be fiction. The difference between us is that Hailey found the truth rooted in them. She's discouraged for a time, but her curiosity and want win out. Her need to understand her family legacy and history, and what can arguably be an entire cultural history that would be embraced by millions worldwide, is admirable and exciting to follow.
While I should've expected the pivotal event that impacted our main character about two-thirds of the way through, I didn't, and I credit that to the writing style. It sucked me in, making it feel like I was in the room with her and her grandmother, hearing the stories while sitting on the opposite side of the couch. My brain didn't connect the foreshadowing dots, and after what happened is revealed, I actually had to take a step back – not because I was upset with the book or didn't want to continue, but because it hit just a bit too close to home. It made the story have that much more of an impact, which I am always a fan of.
At first, I was concerned with where the plot was headed. At one point, I even stopped because I was concerned it would venture into a subject I wasn't comfortable reading about. By the end, I was ready to turn the final page, see an acknowledgments section, and be upset with where the journey came to a close. However, I was pleasantly surprised by what the ending turned out to be, even if it felt a bit too good to be true. It wasn't quite what I had in mind, but I believe it correctly encompasses the journey Hailey takes and how her discoveries impact her family and others.
Stollenwerck has created a remarkable book that utilizes every bit of information it shares to develop a beautifully relatable story. There is something for everyone to identify with, from religion to difficult family dynamics to complicated love interests. That said, it didn't feel stuffed with lackluster or unimportant details the way some books do. Everything has a purpose, even if it isn't what you thought it would be.
Hello, Goodbye is a story of the ages. It's a truly amazing read for anyone, despite its classification as young adult fiction. Stollenwerck shares a phenomenal story that is emotional and inspirational while including all the classic subplots young adult books are known for. It is one of the most impactful tales I've read in some time. For those looking for family history, mystery, heists, and rekindled relationships, Hello, Goodbye is for you.
A copy of this book was provided by the publisher, SparkPress, for review.