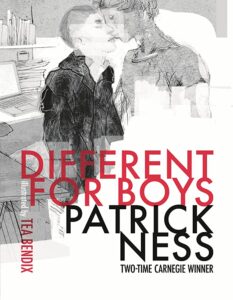 Different for Boys, by Patrick Ness, is a beautiful queer novella. We follow the narrator, Anthony "Ant" Stevenson, who is grappling with his queerness and how "progress" is different for queer boys. Ant isn't a stranger to intimacies but struggles with whether he's reached certain milestones because of his sexuality and friends-with-benefits-style relationship. Aside from his personal sexuality issues, Ant also fears exposure at school. As he has seen with his friend, Jack Taylor, who has been rumored to be gay for years, teens aren't so nice to their queer peers. Even Ant's best friend, Charlie Shepton, makes constant homophobic jokes at Jack's expense, even though they are all "friends." When their fourth group member, Josh Smith, who left their school many years back, returns, the group dynamic starts to get shaken up, and secrets get out.
This short book is truly a short-but-sweet read. Even with fewer than 100 pages, Ness brings these characters to life. The questions that Anthony has are genuine issues that queer teens face. Due to society's definition of "virginity," queer kids often aren't sure of whether they've hit the same relationship milestones as their straight counterparts. If you are a person wanting to learn about the modern queer teen experience or just looking for a book that you can relate to, this book hits all of the right notes. It's detailed yet still doesn't extort an often hypersexualized group (cis, queer minors).
Aside from the wonderful writing, the book is adorned with many excellent illustrations by illustrator Tea Bendix. The novel also has a very unique feature: Any curse word or sexual reference is blanked out. The characters break the fourth wall to comment on this at the beginning of the novel. This writing choice helps contribute to this novel being a beautiful story about queer teens, confusion about sexuality, and self-acceptance, rather than another book leaning into the smutty ideas about queerness. The uniqueness of this book, the rich queer story, and the masterful illustrations make this a novel well worth reading!
A copy of this book was provided by the publisher, Candlewick Press, for review.