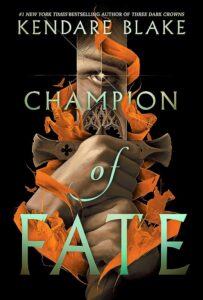 Lovers of fantasy, adventure, magic, and mystery have a new story to add to their bookshelves in Champion of Fate, the latest YA release from Kendare Blake.
Champion of Fate opens with the harrowing backstory of the book's main character, Reed, who was orphaned as a child when opposing forces raided her village and killed everyone except her. Quickly, Reed – and by extension, the reader – meets two women skilled in combat and cloaked in mysterious intrigue. They are members of the Aristene, a mythical order of female warriors whom Blake sets up as Heromakers, those who advise and guide some of the world's great heroes to victory. The two women intervene with the raiders and whisk Reed away on horseback.
Reed, saved from a life of servitude, is taken in by the Aristene and afforded the opportunity to join their ranks. As she embarks on her first hero-making mission, Reed is hyper-focused on succeeding in her quest and proving her value to the rest of the order. Then, she meets her hero, uncovers secrets about the Aristene, and ultimately begins to question everything around her. Add in her complicated feelings toward the hero, Hestion, and Reed is for the first time in her life left uncertain about the path she wants her future to take.
Kendare Blake is known for her previous success in horror, fantasy, and mythology as the author of series such as Anna Dressed in Blood and The Goddess War. This latest addition brings the best parts of her previous novels (including incredible worldbuilding and characters who are never what they seem) to a new story that readers will devour quickly. The story is well-paced and action-packed; there is never a dull moment for the reader to take a breath, probably because there is never a moment for any of the characters to take a breath, either.
The mystical and fantastical elements of the world are grounded by the relatability of a cast of characters who are all trying to figure out who they want to be and how they want to exist in their world. There is also a wonderful amount of character development throughout the story, something that is sometimes lacking in other fantasy stories. Reed, and many of the other characters, grow and change as the story progresses in a fully believable way, which strengthens plot points through the last quarter of the book. And just when the reader thinks they know where the story is going, Blake reminds her audience she is never one to say no to a plot twist.
Fans of Blake's previous work will welcome her latest creation with arms – and bookshelves – wide open, but there is plenty about Champion of Fate to love for readers who have no prior experience with Blake's work. The first in a promised trilogy, Champion of Fate is a highlight in the roster of 2023 YA fantasy and a delight to read.
A copy of this book was provided by the publisher, Quill Tree Books, for review.