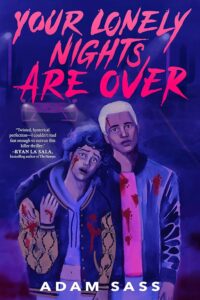 Your Lonely Nights Are Over, by Adam Sass, is an amazing LGBTQ+ thriller. The book mainly focuses on Dearie and Cole, two queer best friends in their senior year of high school. Following the viral popularity of a TV docuseries on the (un-caught) 1970s Sandman serial killer, Dearie and Cole are suspected of sending Sandman's infamous message to the leadership of their school's Queer Club. Both Dearie and Cole have been estranged from the club; having been openly against its members since eighth grade, they are prime suspects. As Dearie and Cole get closer to exposing the real murderer, more and more Queer Club members are falling victim to Sandman's killing spree. Are they actually innocent? Or are these killings all an elaborate scheme to enact revenge on their ex-friends and club members?
This book truly hit all of the perfect notes for me. The detail was fantastic. I was absorbed into the life, traumas, and experiences of each character. I was so shocked by the level of detail that I was second-guessing whether it was based on true events or not. It was also unexpectedly gory and graphic, which added to my enjoyment. As is evident from my previous reviews, queer horror is my favorite genre, and this book did not disappoint. It was amazing in the way it was horrifying. The amount of horror I've consumed has made me quite unfazed by gore, so I am going to be impressed when a book's imagery surprises me. With that being said, I'd urge away those who may be sensitive to gore and violence. This book has quite a few detailed scenes, including a lot of violence against queer people. While the violence isn't based in homophobia, it can still be very jarring to sensitive readers.
I was completely incapable of putting the book down. Finding out who the killer was and being able to get my suspicions confirmed kept me hooked until the last page. The twists and turns that tried to throw the reader off the Sandman's path also made this a very fun book to "map out." I'd sit down and pore over details from the novel, trying to decide who the guilty person was before they were revealed. Any novel that can keep me both engaged and actively guessing is a win in my book. Nothing like a little murder mystery to get the adrenaline flowing. Any fans of thrillers and queer stories will be dying over this book!
A copy of this book was provided by the publisher, Viking Books, for review.