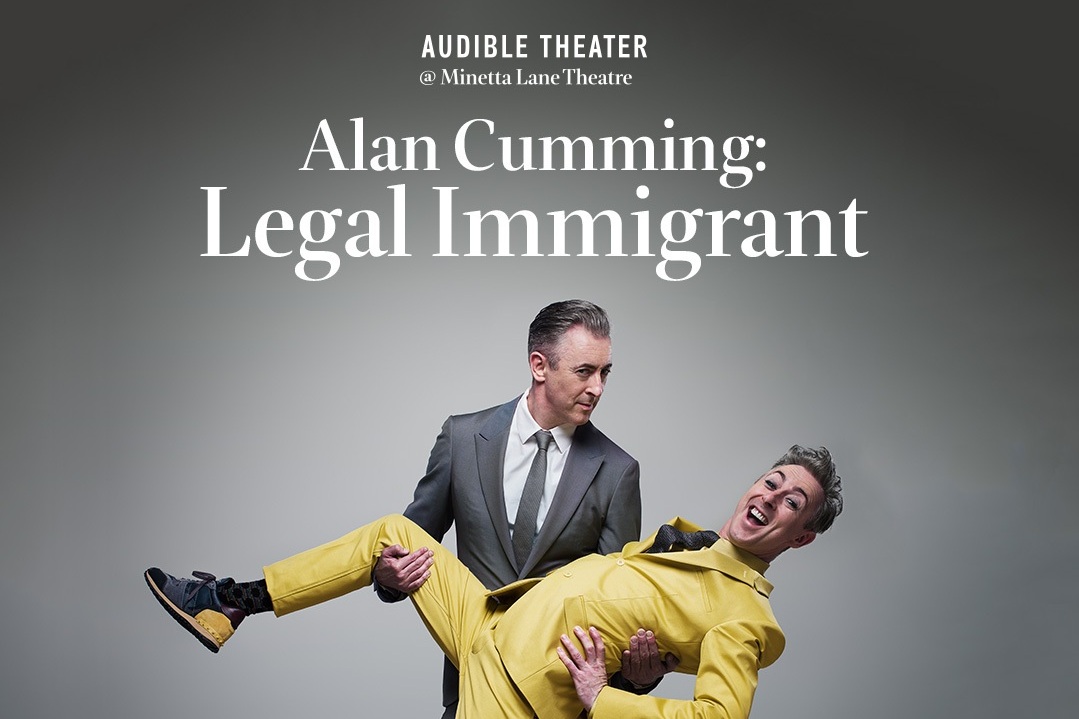 It feels strange to title this review an audiobook review because technically Legal Immigrant is not an audiobook. It's a live recording of Alan Cumming's cabaret show, which toured for almost a year. Cumming (The Good Wife, Cabaret) partnered with Audible in the spring of 2019 to record two nights of the show and create this audio version. The audio version includes content not in the original show, including, of course, references to the recording and helpful descriptions for people who are listening and not watching the show. Legal Immigrant highlights Cumming's life as a Scottsman with dual American citizenship and his views on immigration.
I first remember becoming aware of Cumming when I saw him as Rooster Hannigan in 1999's Annie. I've been a fan of his ever since, and in 2015, I had the pleasure of seeing Cumming in his Tony Award–winning role of the Emcee in Cabaret (and yes, he signed my Playbill!). I read Cumming's Not My Father's Son: A Memoir when it was released in 2014, which was absolutely beautiful. Basically, I'm a big fan, so I jumped at the chance to review Legal Immigrant.
The show is a little over two hours and consists of songs and monologues. Unsurprisingly considering the title of the show, the monologues are heavily political while also being hilarious (there are other sections that are less political but often raunchy. This show is definitely for adults!). While discussing a character on The Good Wife, Cumming says that he and this character entered the country in similar ways.
Like [her], I was brought to this country by a group of people that our current president would consider to be criminals. In her case, of course, it was her Mexican parents. In my case, it was Hollywood film producers.
Cumming is clearly in favor of allowing anyone to become a citizen in America, and the show focuses on this belief. He mentions many other immigrants and cultures while also describing his own history and journey to become an American citizen. After each song, Cumming mentions the backgrounds of the artists and writers, many of whom were immigrants. "Do you see where I'm going with this?" he quips at one point.
Not only does Legal Immigrant show off Cumming's amazing talents as a performer, but it also beautifully and hilariously expresses his political ideals. The songs tie in to his message and the monologues express his thoughts without being angry or preachy (neither of which has Cumming ever been). His humor is witty and laugh-out-loud funny, and you might be tricked into thinking Cumming is a standup comedian.
Legal Immigrant is perfect for anyone who enjoys cabaret-style shows, political standup, Alan Cumming, or just stories about America, Hollywood, and people. Cumming is a Scottish and American national treasure, and his Audible show is truly a gift.
A copy of this audiobook was provided by Audible for review.