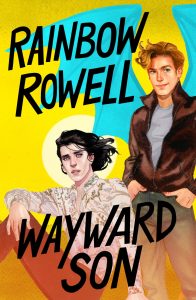 Wayward Son is the sequel to Rainbow Rowell's Carry On, which was published in 2015. We, of course, loved Carry On and were eagerly anticipating the sequel. If you're not familiar with the first book, the idea for it actually began in one of Rowell's other novels, Fangirl. The main character in Fangirl writes fanfiction about Simon and Baz, the two main characters in the Simon Snow series. Obviously, Fangirl reminded many Potter fanfiction writers (including myself) about what it's like to be obsessed with a fandom, and Rowell found herself eager to actually put this world on the page.
Carry On told the story of Simon's epic battle with the evil Humdrum while at his magical British boarding school. It obviously parallels Potter, but Rowell's world is very different – magical spells draw their power from pop culture, and the main characters are gay.
Wayward Son answers the question of what happens after the bad guy is defeated. The book actually opens with an epilogue and ends with a prologue, which I thought was absolutely brilliant. In this book, Rowell wants to explore how heroes handle their lives after their mission is over. Just because Simon has saved the world doesn't mean his life is perfect. Far from it. He's without magic, burdened by a tail and wings, and he doesn't want to feel like he's always holding Baz back.
Agatha has moved to America for college, and Penelope decides that the team needs a classic American road trip to boost their spirits. The book (which is significantly shorter than Carry On) follows their adventures in the United States as they learn the magical ways of the country and come to terms with things they didn't know or didn't want face about themselves.
If Carry On is Harry Potter and the Deathly Hallows minus the epilogue, Wayward Son is what happens between Voldemort's death and Harry's kids going to Hogwarts. I think a lot of Potter fans can agree that this time would have been amazing to see.
Baz, Simon, Penny, and Agatha are all attempting to move on with their lives, but they're still just young adults trying to figure out where they belong. Wayward Son allows these characters to mess up, to make mistakes, and to reflect on their pasts.
Plus the book is a whole lot of fun. While there is plenty of time for character growth, Rowell also creates a hilarious and exciting adventure for the road-tripping trio, who is joined by an intriguing new character (from Omaha, Nebraska, of course. Rowell always includes a nod to her hometown). Rowell hops between the points of view of five characters, and it's an absolute delight.
I also just have to mention the title. Both book titles obviously come from the Kansas song "Carry On Wayward Son" (you might remember it from Supernatural). In the first novel, Simon is fighting an epic battle between good and evil. He must carry on to reach the end so good can triumph. But in Wayward Son, Simon really is just that. He's unpredictable, he's headstrong, he's capricious. He's fought the good fight and lost everything he was. Rowell wants us to think about what happens to the good guy after the war is over, and it's probably a more intriguing question than "Will the good guy win?"
If you enjoyed Carry On, you'll be thrilled with the sequel, which thankfully sets the series up for a third installment. Let's hope Rowell is still eager to explore the magical lives of these characters. You can nab your copy of Wayward Son over on Amazon. Trust us – you don't want to miss this set of adventures.