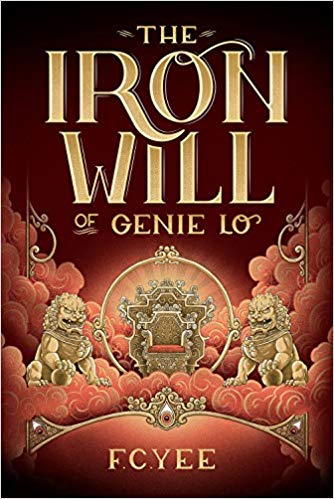 The Iron Will of Genie Lo is F.C. Yee's conclusion to the tale begun in The Epic Crush of Genie Lo. The story picks up where the first book left off – Genie is the guardian of California, protecting the "kingdom" from demons along with her boyfriend, Quentin (a.k.a. the Monkey King).
The book takes place over considerably less time than the first novel, with the majority of the action happening over a long weekend. Genie and Yunie's visit to the local Ivy League college is the perfect time for a Mandate Challenge, during which the champions of Heaven will compete for the chance to claim the Throne of Heaven in the Jade Emperor's absence. New and old characters join together to defeat a current threat while also proving that they're the perfect god or goddess to take up the mantle of a ruler.
Since the very beginning of the first book, it's been clear that this series (which perfectly concludes with this novel) has been about Genie finding who she is. The Iron Will shows that Genie still has difficult choices to make about her future. Where will she go to college? How will she afford it? What will she do once she gets there? At a college party, Genie is hilariously accosted by members of the school's sports teams in an attempt to win her loyalty, and Genie realizes that she never thought beyond the admissions process.
The Iron Will shows that people can change and grow but still keep important parts of themselves intact. Genie is just as hilarious and hot-tempered as she always was, but she's learned more about what it means to sacrifice something. She learns to trust others and trust herself. She learns that growing up doesn't mean leaving behind what you've lost, not if you can help it.
The Iron Will of Genie Lo is a hilarious, exciting, and poignant conclusion to Genie's story. Yee always seems to keep the reader simultaneously laughing and crying (I might have wept a few times near the end of the book), and I adore his writing. If The Epic Crush was Genie discovering her place in mythology, The Iron Will is her discovering her place on Earth (through a little supernatural adventure, of course). I'm going to miss Genie, Yunie, Quentin, and Guanyin. Don't let this series slip through your fingers unread.
A copy of this book was provided by the publisher, Amulet Books, for review.
If you've read the book, enjoy my small, spoilery thought below.
–
–
–
–
I absolutely loved the final chapter of the book. Yee chose to focus on Guanyin and her rescue, skipping over years of Genie's life. We learn very quickly that she's graduated college and that her powers have grown, but we don't even learn what she went to college for! This conclusion just shows that life is not about what you do since those choices shift from day to day. It's about who you have and what you're willing and able to do for one another.
I'm not crying. You're crying.