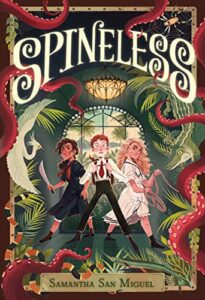 Adventure, gargantuan creatures, and circus acts – Samantha San Miguel's debut middle grade novel has it all.
It's Gilded Age America, and Algie Emsworth has been an amateur naturalist since he was stuck at home, bedridden in chilly Chicago with asthmatic lungs and a fearful mother. Now he finally has a chance to prove himself as he arrives in lush Florida. Along with his mother and older brother, he prepares to spend the winter at a famous health spa, the Hotel Paraíso. But Algie may get more than he bargained for, as he encounters poachers, alligators, and more in the swamps around the hotel.
This book was an absolute delight. Algie and the two sisters he adventures with, Frankie and Lulu, were a lot of fun. It was wonderful and hilarious to experience some of the amazing Florida wildlife through Algie's eyes. He has such a love for exploration and animals even though he was raised in a city. I felt that there were some really wonderful moments – the diving bell, in particular, was really neat to experience.
One of my favorite elements of the story was Algie's struggles with his asthma – both how he worried it would impact his adventures and the ways in which it actually did. On one hand, Algie is afraid that if he tells Frankie and Lulu about his asthma, they won't want to take him along. On the other, he is fearless in his willingness to try new things and take risks. It doesn't matter if it's learning to swim, facing an alligator, or zipping through the swamps on a waterbug. While Algie's asthma does set real limitations for him, it adds to the stakes of his story and the triumph of his successes.
Speaking of stakes, they are surprisingly high for a children's book here, which I was not expecting but was a welcome surprise. The kids face some real dangers – death feels like a possible consequence for some of their actions, whether that be from getting caught in an alligator's death roll or by crossing the wrong adult. They encounter dead animals multiple times throughout the story, and the adults they are trying to thwart don't pull any punches just because they're facing kids.
My only complaint about an otherwise wonderful read was that I got the sense that perhaps Spineless was once a much longer manuscript cut down to be a more manageable length. There were occasional moments when I felt events, objects, or people popped into being without much of an introduction – suddenly it was nighttime, or I'd missed an entire costume change that involved sequins and a trapeze plan.
Overall, Spineless was a wonderful debut, and I will absolutely be keeping my eyes peeled for San Miguel's next book. Grab yourself a copy of Spineless from your local bookstore, or purchase it through the buttons below. With a cover as stunning as that, I promise you won't regret it!
A copy of this book was provided by the publisher, Union Square Kids, for review.