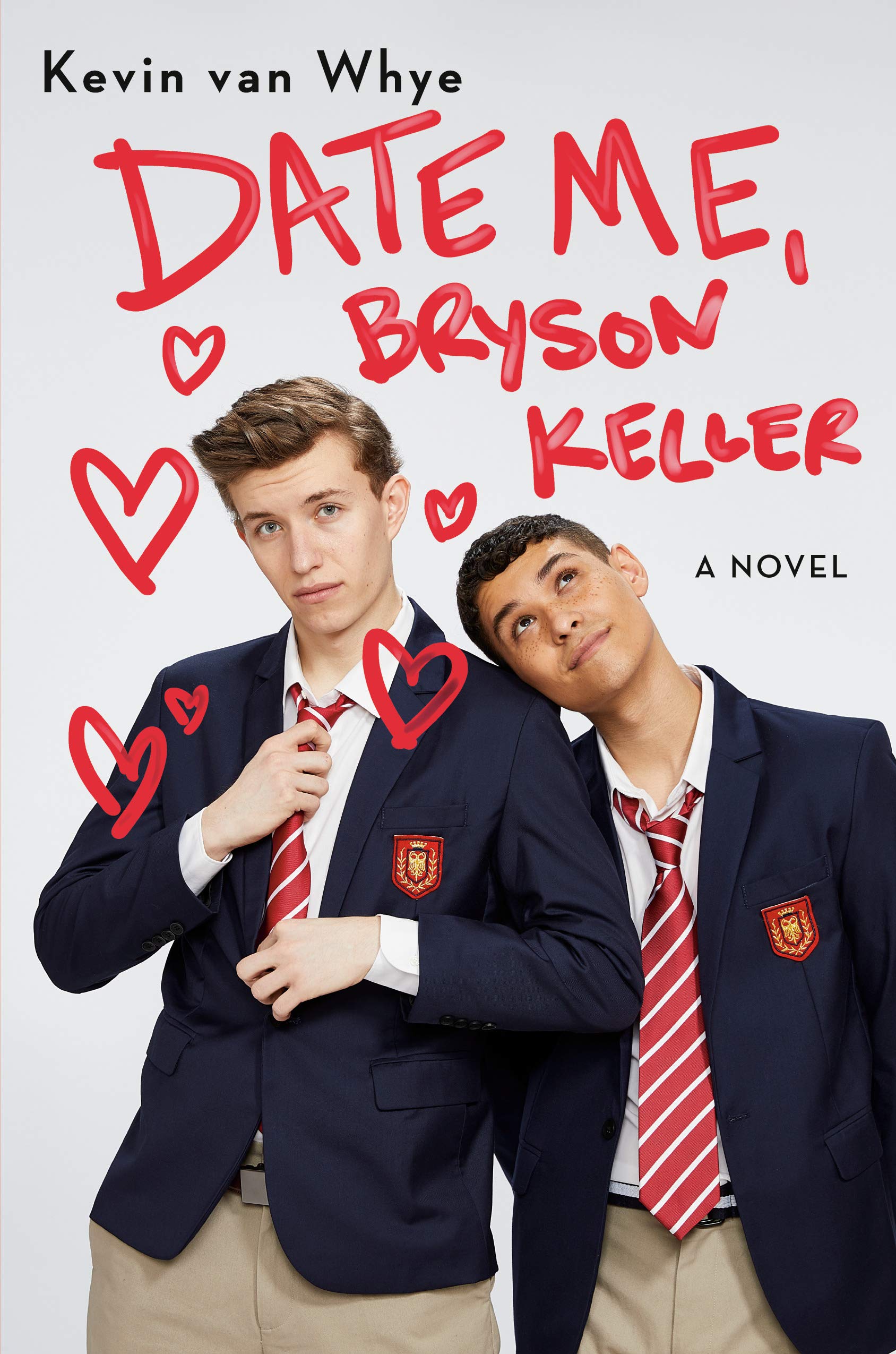 Date Me, Bryson Keller begins as so many great high school stories do – with a dare.
Bryson Keller is the most popular kid at Fairvale Academy. Not only is he totally dreamy, but he's also captain of the soccer team and an overall nice guy. Everyone loves Bryson – so why doesn't he have a girlfriend? When Bryson claims high school relationships are a waste of time, his friends set a dare: Date the first person to ask you out for a week at a time, or ride the bus to school for the rest of senior year. Every Monday, girls stake out Bryson to make sure they're the first to utter those magic words: "Date me, Bryson Keller!" It goes as planned for a while – that is, until a boy asks Bryson Keller out and changes everything.
Date Me, Bryson Keller is a romantic comedy, but at heart, it's a coming-out story that tackles some of the issues gay teens are facing all across the world. It's an important book for young people – especially young gay people who are looking for representation in media for young adults.
Not only did MuggleNet read an early copy of Date Me, Bryson Keller, we also had the opportunity to talk with author Kevin van Whye about his debut novel.
Date Me, Bryson Keller is a coming-of-age story of sorts for the main character, Kai Sheridan. We follow Kai as he comes into his identity – and not just in terms of his sexuality. What inspired you to tell Kai's story?
Date Me, Bryson Keller had many inspirations. Aside from my own lived experience, the '90s rom-com She's All That played a major role in inspiring this story. Just like the movie, I wanted to center a romance around a dare. Another great source of inspiration was the manga Seven Days: Monday–Sunday, by author Venio Tachibana and illustrator Rihito Takarai. Overall, I wished to tell a story with gay characters that were fully immersed in the LGBTQ+ narrative. Date Me, Bryson Keller is a story for the LGBTQ+ reader that reflects the world we live in. Other inspirations were the Norwegian web series Skam (particularly Season 3), To All the Boys I've Loved Before by Jenny Han, and Simon vs. the Homo Sapiens Agenda by Becky Albertalli (as well as the film adaptation, Love, Simon). All of these things are woven into the tapestry of my novel, Date Me, Bryson Keller.
Your characters could be easily found as the leads in a '90s romantic comedy. Can you tell me about your choice to write in the "rom-com" genre?
As a '90s kid, I grew up in the golden age of romantic comedies, and that fact has definitely shaded my writing, so much so that Date Me, Bryson Keller can best be described as a coming-out story with a rom-com sensibility. To me, there's something magical about rom-coms. They offer a form of escapism too. For those of us who want swoon-worthy romances, we're able to experience them on the page. And I'm so glad that now more than ever before, writers are writing diverse romances, so everyone is finally getting a chance to see themselves within these stories.
I was an American high school student once, and I can totally recall people from my life at that time that were Kais and Brysons. Your characters are recognizable and tangible for readers. What is your hope for the real-life Kais and Brysons in high schools today?
My hope is that the Kais and the Brysons of the world feel seen and understood. I want them to know that despite the trials and tribulations that they might go through, there is always hope for a happy ending. We deserve to be happy, and I want readers to know that.
Can you tell me why writing a coming-out story was important to you?
Coming out is an important decision – life-changing even, which is why I wanted this book to be more than a love story with a happy ending; I wanted it to be a coming-out narrative. I'm a firm believer that stories of this nature will always be needed because there will always be a teen faced with the daunting task of coming out. I'd love for a teen like that to pick up Date Me, Bryson Keller and feel seen – feel understood.
Date Me, Bryson Keller is your debut book – congratulations! Why was it important to you to tell this specific story as your first?
Thank you so much! All writers start off as readers, and as a child, I was a frequent visitor to my school's library. I read far and wide, but more often than not, in the books that I so adored, there was something missing. Those stories were always about other people and never about people like me. And so, when I sat down to write Date Me, Bryson Keller, I wanted to tell a story with a character who is like me, because kids like me exist – they existed then, they exist now, and they'll exist in the future too.
I believe that we all deserve to see ourselves on the page. More than that, we deserve to see ourselves portrayed with authenticity, which is why I'm so glad that the push for Own Voice stories exists. I think that was my biggest goal with Date Me, Bryson Keller – I wanted to depict a queer, mixed-race character with authenticity and without the fetishization that often comes with gay love stories.
It says in your author bio that you quit preschool as a child because your teacher couldn't tell a story? That was so interesting to read – and it made me giggle. Can you tell me more about that? Where did you learn to tell a story?
Some background to this: I have a brother who is four years older than me. And so when he went off to school, I found myself very bored. I asked my Mom if I too could go to school. Of course, at the time, I was a year too young, but I was allowed to enroll early in preschool. And everyone thought it would be smooth sailing from then on, but then one day I came home and told my parents that I would not be returning, and when they asked me why, I told them that my teacher couldn't tell a story.
I had been going to school for less than a month and my parents had already paid for the whole term. So my parents were not very happy with me. My mom said she even tried to bribe me to return with fancy lunches and sweets, but I still refused. In the end, they agreed not to force me.
What's funny though is we moved shortly after, and I was enrolled in a different school, and this time I didn't have any issues. So it really was the fact that my teacher couldn't tell a story.
My parents encouraged my imagination. At the time, it wasn't books that I was drawn to, but I loved cartoons and television shows – the '90s have some of the best, from the X-Men to As Told by Ginger to Braceface to Recess. I loved the Power Rangers and Dragon Ball Z. And so whenever it came time to buy me presents, I always asked for action figures. And with those action figures, I would play and tell my own stories. I wasn't just replicating what I'd watched. I was making up my own stories, with my own worlds and my versions of these characters.
So I think even as a child I loved stories, even if I wasn't really aware of it. And it wasn't until I was much older that I discovered if I write those stories, I made up down, then I'd be a writer. So that's what I did.
What books inspired you as a developing writer?
I wasn't much of a reader as a young child, but I did dabble with Goosebumps, Nancy Drew, and Animorphs. Of course, Harry Potter was an event when I was a child, and I got swept up in that too. So even though I didn't read often, I did read.
But it was only as a teenager that my love for books and reading developed. And as a teenager, I read far and wide, from The Hunger Games to Pretty Little Liars to The Woman's Murder Club and The Dresden Files. I even devoured the Merry Gentry and Anita Blake series. Blush. But the book I note as the one that inspired me to write YA was definitely the Twilight Saga. I was a teen when those books came out, and I witnessed the phenomenon that they went on to become. From teachers to students, everyone was reading those books. I remember reading them all over one weekend when I should have been studying, and when I was done, I think that was the first time I thought, "Hmmm, maybe I could be a writer too."
What are you reading now? Listening to?
I was very behind, but I have just finished, and loved, the Folk of the Air trilogy, by Holly Black. I'm now making my way through Crescent City: House of Earth and Blood, by Sarah J. Maas. I also have Such a Fun Age, by Kiley Reid, waiting on deck.
***
Date Me, Bryson Keller is out now. You can stay up to date on Kevin van Whye's work at his website, kevinvanwhye.com, and on Instagram @kevinvanwhye.