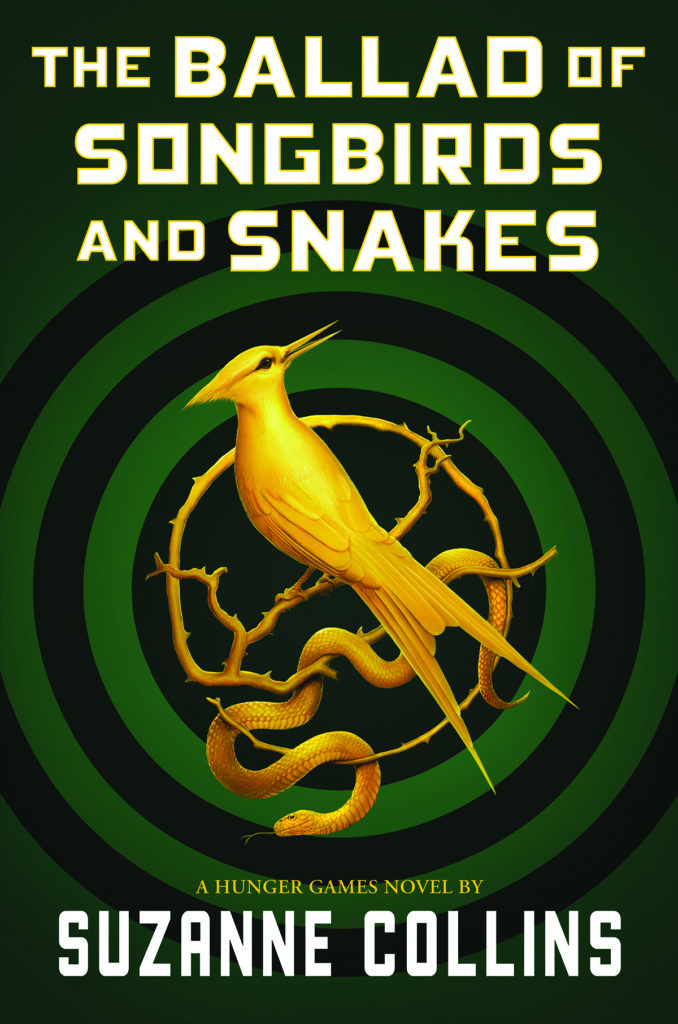 Ambition will fuel him. Competition will drive him. But power has its price.
It is the morning of the reaping that will kick off the tenth annual Hunger Games. In the Capitol, eighteen-year-old Coriolanus Snow is preparing for his one shot at glory as a mentor in the Games. The once-mighty house of Snow has fallen on hard times, its fate hanging on the slender chance that Coriolanus will be able to outcharm, outwit, and outmaneuver his fellow students to mentor the winning tribute. The odds are against him. He's been given the humiliating assignment of mentoring the female tribute from District 12, the lowest of the low. Their fates are now completely intertwined – every choice Coriolanus makes could lead to favor or failure, triumph or ruin. Inside the arena, it will be a fight to the death. Outside the arena, Coriolanus starts to feel for his doomed tribute… and must weigh his need to follow the rules against his desire to survive no matter what it takes.
SPOILERS WITHIN
As a reader of Collins' original Hunger Games trilogy, I was ultimately satisfied with her bleak but necessary ending in Mockingjay and had not once considered a need for further stories in the world. However, in her return to the world of Panem, Suzanne Collins adds foundation layers of macabre to her politically corrupt dystopian world with a prequel that makes the trilogy ultimately even more chilling. Particularly in taking the somewhat aloof and pantomime villainy of President Snow, and forcing us to confront his humanity and thoughts by planting us firmly in his coming of age mental headspace. The result is a book that sharpens the knife that will cut us in the games, taking a villain and making him more grim and detestable through his own youthful self-serving actions. Snow is not a protagonist you are meant to like, and in The Ballad of Songbirds and Snakes, taking us with him through his self-pitying journey to adulthood, Collins pulls no punches in showing us the darkness within the most charming snake of a fledgling politician.
With a look at Panem just ten years into their century of political killing games, Collins took a risk by framing the prequel from the perspective of the villain. However, in seeing the world from Coriolanus' eyes, readers are given a chance to take a leap into his twisted, self-serving, egotistical, and deadly logic. Whilst some fans feared that a YA book which centers a villain's romance may seek to redeem him, they needn't worry. Even in the moments where we are swept up in seeing what path Snow may take, you aren't meant to root for him. His admiration of others extends only so far as they may serve him, his romantic idealization of his love interest Lucy Gray a high and costly pedestal that will fall down at the first inkling of free will. Snow's romancing is utterly on his own terms, and when he feels it starting to make him 'weak' he is the first to cut it off at the legs, putting up insurmountable walls and impossible goals.
And when we momentarily forget that Snow is in fact the villain of the piece, we are soon reminded with a mental remark in his inner dialogue that leaves a bad taste. Teen Snow is odious, obsequious, arrogant, cowardly, and ruthless. Seeing him tiptoe across moral lines makes him ultimately a more grounded, fully realized person and one you'll want Katniss to destroy thoroughly. Though it may be polarising, if you enjoy reading about someone who is meant to be loathsome, this book will be for you.
Collins' writing remains utterly compelling, and she steps back into Panem without missing a beat, bringing nostalgia along with it. There are nods for keen fans of the trilogy to spot, with recurring songs, familiar district settings, and name drops that will ring alarm bells. (Occasionally with all the subtlety of a bombshell, though it definitely made this reader laugh with delight.)
It is morbidly fascinating to see the games before the glamour in their fledgling state, more the despicable ramshackle fallout of recent wartime than the polished system of flashy deathly tradition that marries punishment with pageantry. We are thrown into a country with no television access, no desire to watch death, and the task of Snow and his classmates is to find a way to make torture compelling. Think first season reality shows, badly filtered, full of elements that are off-putting. Tributes are treated like animals in a way that pulls the veil away from the makeup and costumes, primp and pomposity of The Hunger Games trilogy. Starved, beaten, forgotten, thrown into a zoo enclosure, cared for not by medics but by a vet, and treated with nothing but disdain, the tribute children of The Ballad of Songbirds and Snakes are far from the plucked and pampered celebrities in training we later know.
The stand out tribute we do come to know well, albeit only through the heavily filtered lens of Snow's perception, is District 12 chosen Lucy Gray, a singer with the traveling community of the Covey, forced to remain in 12 because of the war. Lucy Gray could arguably be a preliminary character sketch of Effie Trinket (and I must admit to reading the book waiting for this reveal to occur as a plot twist). She's bright against the drab landscape, hair coifed, colorful dress a Covey costume that sets her apart from her competition, and makeup used as a shield. It is perhaps a bit of a stretch of the imagination to think this savvy young woman would fall for Snow's manipulative charm, however she does, through Stockholm syndrome of a kind face in a cruel crowd. She does have some bite of her own, however. In meeting her, we see her get revenge on her lover's mistress, and in the games, she does what she must to survive. As we read Snow project his own possessive desire on to Lucy Gray, we desperately want her to push back. I did at times feel like we didn't get enough of an understanding of her motivations, eclipsed as they are by Snow's assumptions of who she is, but the glimpses we do get show a fascinating individual with her own agency.
As a reader, I would be very interested to see reviews from travelers to see what they made of Collins' traveler community the Covey, a nomadic group of found family survivors who perform for their food and roof. I personally found this element a little under described and would have liked to have known them as individuals and seen more of their world view from their own eyes, rather than Snow's – perhaps a need for a secondary perspective in the narrative. As it is, we remain in the claustrophobically crumbling riches of Snow's landscape of luxury falling to disrepair, and his riches to rags worldview. This, and a slightly lagging pace in the final third, would be my main critiques of the book.
But what of the main moral thread in the book? This is, after all, our earliest glimpse of how the games came about.
'It was meant to be theoretical' says Dean Casca Highbottom, Snow's least favorite teacher, in what is a skin-crawling throwaway line that establishes how the games came to exist. As the person responsible for theorizing how one might perpetually punish an enemy, Highbottom is dubbed the creator of the games and reaps the fallout of his own mind. He is an addict, reminiscent of Haymitch, and he has a long-standing vendetta against someone from his past which he can not let go.
If Snow is the antihero, then the would-be hero would perhaps be Sejanus, a district two boy uprooted by his munitions making father to the Capitol. Much to Snow's disgust, Sejanus is nouveau riche and someone who through persistent friendship, he reluctantly admires. Sejanus' stubborn moral compass paired with his gullibility leads him into danger, surrounded as he is by those who seek to do harm for the sake of seeing what will happen. He reminded me of Peeta in his naiveté and ideology, with poor decision-making skills and it is to his detriment that he finds companionship in narcissistic Snow, someone that Sejanus considers a brother and best friend, who doesn't care for him at all. As an emotional foil, Sejanus bears the brunt of the pain that we as a reader feel witnessing a bloodthirsty and unjust world.
The true evil at the heart of the book is the scientist, aptly named Dr. Gaul. Sadistic, manipulative, scary, and powerful, she frightens even Snow. It is Dr. Gaul who implements the worst of the ideas that are posited in class like a political war game come to life. The children, both district and Capitol, are her lab rats, and she treats them accordingly, dishing out praise and punishment on a whim, and grooming young Snow to become her predecessor. She is a magpie of corruption, stealing the most bloodthirsty ideas from those around her.
The Ballad of Songbirds and Snakes is a brutal and brilliant prequel, which bloodies the background of The Hunger Games in a gutting game of innocence versus ambition. We know what becomes of Snow, but learning where he came from means we are witness to the well of darkness Dr. Gaul argues is within us all. In reading, Snow becomes a more fully realized villain. Collins' prequel could not be timelier, where politics plays with our lives pitting profit against person. This wasn't a book that I, as a reader, necessarily asked for – however, I found it utterly compelling and a truly fascinating read. Collins is back and it's a most welcome return.
A copy of this book was provided by the publisher, Scholastic UK, for review.